5th Jan 2012, Swimming with sharks and turtles

Glenoverland
Thu 5 Jan 2012 09:20
16:56.3S 145:44.5E
Cairns and the Great Barrier Reef
Cairns is a lovely city with a stunning tropical island backdrop out to sea and across to the tablelands. The harbour is reminiscent of Sydney Harbour but covered in forest rather than glorious homes. We did a trip on Ocean Free, a beautiful old ketch (if you Ocean Free guys are reading this, thank you for a great day). We sailed to Green Island, a sand island on the Great Barrier Reef, covered with mangrove and forest, with a resort almost totally hidden from view as you approach from the sea. It is run by a chinese company, and full of Chinese in wet suits and flippers prancing around in the swimming pool. I hope they finally made it to the reef.
Sandy did a dive, and I snorkelled , with a guide who was incredibly knowledgeable about the reef. They are very strict about mooring, and every charter company has a fixed mooring buoy so there are no anchor chains dragging across the coral. I held sea cucumbers and starfish, the best sea cucumber was a big heavy one that felt like a teddy bear, and we were very careful to put them back in their right places. (I hope it's ok to bring a sea cucumber to the surface for a minute). But the very best bit was swimming with turtles and sharks, so exciting that I forgot about being scared. We are so lucky to be doing all this stuff.
We didn't have an underwater camera so I have painted Sandy and me snorkel diving, the picture is accurate in every detail, except that looking at it now, I think I have made the sharks a bit small.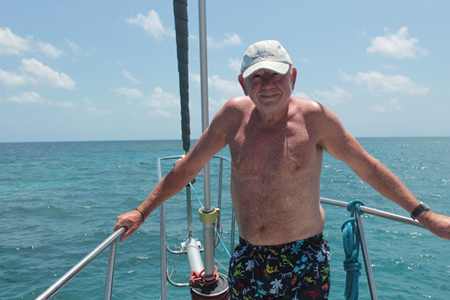 ---