Oh to be in Tobago ....

Blue Beyond , The adventure begins.
Mark and Maxine Frost
Sun 27 Sep 2009 16:34
After a few months in Grenada , where we have been hiding away from hurricanes we decided it was time for a break .. a holiday in fact ... so we departed these shore with two other boats and good friends , "quetico"with canadians Rob and Cathy and "silver seas" americans John and Nancy , we had a slow trip over to Tobago but without any trouble and landed in Charlottseville , a very small pretty fishing port , in lush rainforest . we all decided to have a quiet evening and catch up on sleep but we had a visitor , a local fisherman , tied his boat on the back and came aboard, all uninvited but with great jollity , and explained he had come to do some liming ( talking) with us to tell us about his island , so after a few rum and cokes we were now up to speed with all the news and gossip and a promise of some lobsters in a day or two , our new friend Len left us to get some sleep.

The next morning we were woken by the very loud chatter of parrots flying around the rainforest , they were extraordinary noisy , green ones ,lovely to see them flying free ,

we all loved Charlotteville , with deep very clear water and great coral reefs for snorkling , there was a beach very near to where we were all anchored so I organised a bbq , I invited the other 3 boats in the anchorage and we had a mix of english , american , canadian , swedish and french , everyone brought something to throw on the barby and a dish to share and their own drink , and after the sun went down and all the food had been eaten we built a big fire and sat round and sang songs and played games , probably one of the best night we have had in the carribean , everyone cleared up at the end of the night and we left the beach as pristine as we found it , great night was had by all ......

we left to go down the coast to englishmans bay , armed with live lobster from Len , as promised , this bay was exsquisit , and that night we sat on Quetico eating lobster , with butter , new poatoes , salad and fresh bread under a night sky that had no light pollution , it really couldn.t get better than this .


we carried on to plymouth bay and then buccoo reef , this was now getting a bit more comercialised , but we had some great nights on each others boat ,

We now had to make our way back to Grenada to meet up with friends Ray and Bev who were joining us , but we will be back in Tobago soon , too good to miss ..




---
Beyond Hotmail - see what else you can do with Windows Live. Find out more.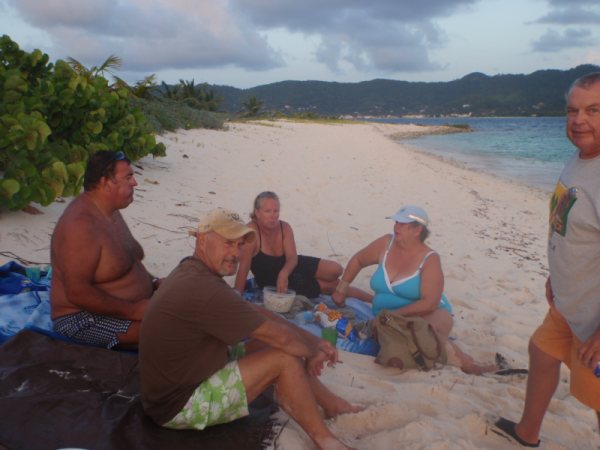 ---