Ashort stroll in the rainforest.....

Blue Beyond , The adventure begins.
Mark and Maxine Frost
Mon 2 Mar 2009 20:00
As Kathryn was feeling better and Gary had organised a really good deal with the taxi driver we set off up into the rainforest in high spirits , 'its only a short walk of about 45 mins' our taxi driver told us and we might even see parrots , eventually we were so high up the road stopped and we were now really in the rainforest , very lush , we arrived and were directed towards a path and told that a guide would meet us , we caught up with a few others and proceeded at a gentle pace through the rainforest , the guide gave us lots of imformationas we started our descent to the waterfall , being a rainforest of course it rained really hard and being so far up we were hit by big drops , the descent bagan to get steeper with lots of steps and bridges at one point as our knees were achinging someone asked if we had to come all this way back up ? 'no its a circular route you will be fine ', after way over an hour and having to wade through a river we arrived at the waterfall lovely ,to look at but mosquito heaven , Gary plunged in with a few of the others , Mark and I were just trying to catch our breath and save our sore knees , then it was time to move on .....and up....... a group coming down said 'hey guys you have got hellava climb ...... our hearts sank and Mark was furious , but what else could we do? we had to go up as there was no other way out , so that what we did , Mark can keep going only if he keeps his pace up so we went in front and for the next hour we climbed 1000ft up through the rainforest .. at speed ... thought I was going to die , don't forget it was about 78 degrees and nearly 100% humidity , but at last we reached the top and spilled out onto the road , and met a refreshed looking couple who had opted for the gentle walk of about 20mins , Mark looked at them and I thought there might just be violence ......... we had been nearly 3 hours and gone 1000ft down and back up !
But as with all great adventures , we now look back and say we enjoyed it and were proud we had managed it and we are never going in a rainforest again !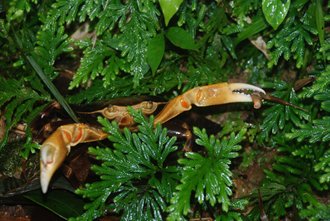 Large freshwater crabs lurk on the floor of the rainforest.
Gary in the waterfall
wading through the river
So now this was ticked off our list we decided it was time to move on , to Veaux Forst at the southern end of the island .
---