Fw: A short tale......

Blue Beyond , The adventure begins.
Mark and Maxine Frost
Sat 28 Feb 2009 20:53
----- Original Message -----
Sent: Saturday, February 28, 2009 8:30 PM
Subject: A short tale......
The team Blue Beyond ( Gary , Kathryn, Mark and me) decided to move south to Marigot bay , and we spent a very pleasant 2 days there, Gary and Kathyn decided that they would like to try and walk to Anse Le Rey , a fishing town a few miles along the coast , the area is very hilly and not that easy in the heat , they caught a local bus and when there arrived they wanted to visit a waterfall nearby but were informed by the bus driver that there were 'bad men 'there and not to go unless they were armed ..... he didn't specify what arms were needed , but they thought this may be good advice so gave it a miss .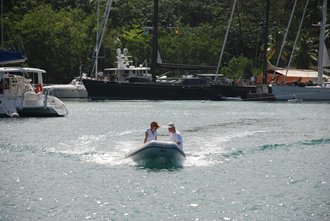 Gary and Kathyyn , note the black yacht behind was 120 ft
We then moved on to Soufriere , we were met about a mile out by Phillip a liscened taxi and as it turned out a man with fingers in many pies , he took us to a mooring on the south side of the bay opposite a beach where all the fishermen lived , what a contrast .... we were on Blue Beyond and there was a whole street of shacks , but really facinating , it was really busy with washing being hung out , children running around , men hauling up the boats , and along the beach pigs were running around and wallowing in the sea . I was quite facinated by these pigs and while I was watching ( we were only 50ft from this beach ) A young lad walked along with his large dog on a lead and the next thing it went for a piglet and had it by the tale ... what a noise .. but the dog managed to bite the tail right off ... I felt sorry for this poor pig , no-one else took any notice , but it wasn't to be the pigs day , it took itself off to a rock only to be slung over the shoulder of a very large guy again screaming as only a pig can do , only this time as it was Independance day , it was going to be SUPPER.....
Piggys last day ......
Back to Phillip , Gary really wanted to visit the rainforest trail and phillip saud he could arrange it all for a price , quite a good price , so we were all arranged to go the next day but in the evening Kathryn felt a bit unwell so we had to cancel . we decided to up the anchor and we headed off to the Pitons.
---