dingy delight!

Blue Beyond , The adventure begins.
Mark and Maxine Frost
Sun 11 Jan 2009 15:27
At last we finally have our dingy ... this has been such an epic scenario , we kept getting told it had arrived on the island , then we were told it was in customs , then we were told it hadn,t arrived , so on and so forth we began to wonder if we had been ripped off , but we had done our homework and checked with other boat that had boat their dingies form this company , so anyway we wnet to collect and get it signed out from customs on to find it had been puncured intransit !!!! they offerred to repair it .... at this point Mark went spare ... so we are now the proud owners of another dingy which has an aluminium floor , worth another $1000 as a gesture of goodwill! so we are very happy
at last it arrives ...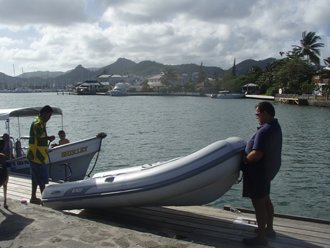 Mark checking it over thoroughly.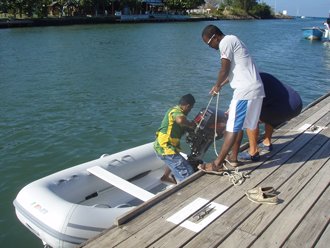 tricky bit , getting the engine in before it drops in the water!
The Rainforest Hideaway restaurant was absolutely fabulous , we went over to the bar to meet with Debs , Dave and Lynne looking for the taxi , but they had hired a large speedboat to take us there.... we had a very fast , and I mean fast trip down the coast to Marigot Bay, fabulous meal under twinkly lights , cocktails out on the veranda and then a very fast ride home at 2-30 am , it was a great night .
---