normal service resumed...

Blue Beyond , The adventure begins.
Mark and Maxine Frost
Fri 2 Jan 2009 14:45
Happy New Year to everyone
We are now safely ensonced in St Lucia , beautifull place , we had a fantastic arrival , luckily it was in daylight , we had all our friends from the ARC waiting for us and a steel band , a girl gave us a big basket of fruit and there was a plentiful supply of rum punch ....
but the best bit was seeing all the kids , great ..
We have had a whirlwind of a christmas , we hired a truck and we toured the island , Bev and Ray had a villa very near to the pontoon so we were all able to use the facilities and the bbq and the pool . we had some great family feasts
we were all waiting for Anja to fall in !
we visited a waterfall and botanical gardens , and we then went into a drive through volcano and sulpher springs ,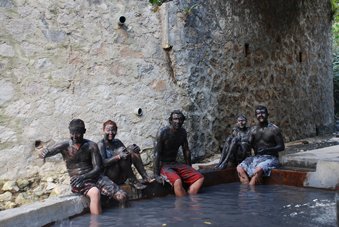 all our Beautiful children.....
we had lots of days lazing on the beach , but christmas day was lovely we book for lunch in a beachside hotel and had all the facilities for the day , just heaven...
---