Day 4 to Bermuda

Talulah's Web Diary
Paul & Anette Morris
Mon 28 Apr 2008 12:47
Position "23:56.810N 063:26.150W"
Noon, 12th April 2008
378 Miles to go – we saw a ship this morning!! It was quite a surprise as it steamed across our bows at about a mile away. It was strange because from first seeing in on the horizon to watching it disappear over the western horizon must have only been about 15 minutes!
The weather has become very hot again and the wind died again at 4 this morning. The sea is like glass, and we're using diesel at a rate that will see us through the next 4 days if we have to motor all the way. However, I looked at the weather faxes for the next couple of days and there are 2 weather patterns developing either side of Bermuda, so we may have a fast run in to St Georges!!!
I rig up a drogue on a harness just in case we need it to slow us down on any big waves, then put it all away in a locker so that we pay it out easily.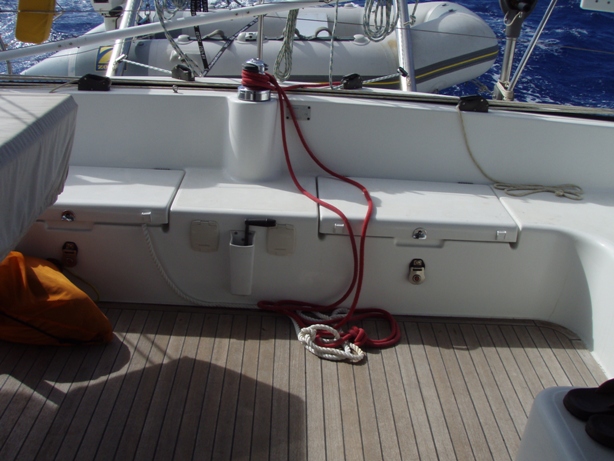 Can't see much, but thte drogue is ready in the locker and the red line is the harness ready
To pay out. The harness is attached to cleats on each hull, but brought amidships and wound
Temporarily onto the winch to stop it flogging.
---