Weekend of the 18/19 November

Talulah's Web Diary
Paul & Anette Morris
Sun 19 Nov 2006 20:59
Saturday was a

nother busy day for us as we were visited by one of Anette's cousins - Juliana and her boyfriend from Tenerife. We paid another visit to El Corte Ingles for some plastic containers for rice and pasta, bought some material to make up costumes for the fancy-dress party coming soon, and attended another cocktail party at the Real Club Nautico! After the cocktail party it was dinner at a Tapas bar, then on to the Johnnie Walker bar for some more beers, then bed at 2 a.m.!!
At the cocktail party we met some Norwegian ladies from an organisation called "girls4sail". They were part of a group of 8 sailing another catamaran called "Queen of Hearts" For some obscure reason lost in the mist of 'bar talk' we now have a bet on with them about which boat will be first to get to St Lucia. I think Anette and I will have our work cut out trying to beat a boat with 4 times our crew, and 9 feet longer!!
Nursing hangovers from the previous night we were all a little slow to start

Sunday

. However, we did in a rousing fashion by marching with the flag bearers to the flag raising ceremony, at which the flags of the 27 different nationalities taking part were raised. We we led by a local brass band and marched with the Cornish and Welsh contingent behind a St Piran Flag! It was great fun and followed later by the famous "Don Pedro dinghy race" - which was more of a fight with flour bombs and water filled balloons than a real race! Lots of noise, lots of music, and some strange a weird costumes!!!!
Barbeques tonight and Anette and I are looking forward to them!
The photo's attached are of the parade with the flags and then some scenes of the dinghy race.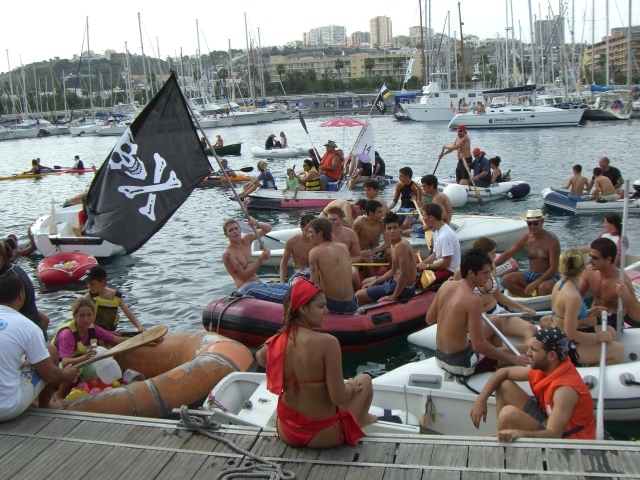 ---