Talulah's log

Talulah's Web Diary
Paul & Anette Morris
Thu 23 Nov 2006 15:31
Thursday 23rd November 2006
The sun is shining and there is a wind! But.....we're not going anywhere for a couple more days! Had a great time last night at the circus theme fancy dress party - Anette and I went as a Moroccan snake charmer and his assistant!! It was amazing to see how many blokes went dressed as women!!? There were also sumo wrestlers, bandits, lots and lots of lions, leopards, Ringmasters, a herd of elephants, a Swedish chef (?) and a 'hundred' clowns! It was great fun and everyone had loads of laughs. We danced till we ached and then went back to the boat at "something" o'clock.
Today we are waiting for our frozen delivery from El Corte Ingles, Anette attended a Net Controllers briefing, I got my new "piece of string" for the parasail 'moused' down inside the mast, and then went around the boat checking and tightening the hatches, split pins, and 'mousing' off the shackles.
Tonight we've been invited to a dinner party by Lagoon and Beneteau - oh, and there's a happy hour sponsored by Raymarine just before that which we must not miss!!!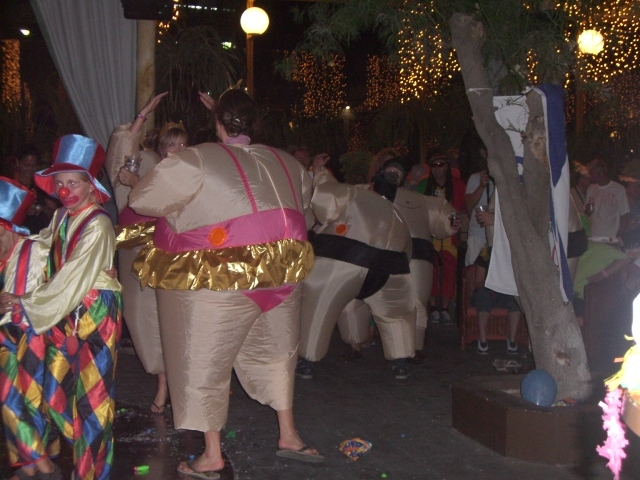 ---