New Year 2008

Talulah's Web Diary
Paul & Anette Morris
Tue 1 Jan 2008 18:45
"16:18.39N 061:47.78W"
So here we are in Guadeloupe, anchored just off the village of Deshais. We sailed up from Terre de Haut in Iles de Saintes this morning, and blasted up the first 10 miles in winds of 30 knots, at times gusting to 38 knots! We had 3 reefs in both the mainsail and the jib, and once again got a good 'slapping' from the beam-on sea. We did think of sailing on to Antigua, but when we tried to point the boat in the right direction at the top end of Guadeloupe. The wind was right on the nose. So we had no option but to put in to Deshais, and celebrate New Years day by opening a bottle of Champagne, cooking up some prawns in chilli, garlic and lime, and settle down to recover from New Years eve!....its a hard life!
New Years eve was not quite what we'd imagine it might have been. We'd anchored in the bay just out from the town on Terre de Haut early in the previous day. The following day (new years eve), We went ashore, tried to buy a couple of baguettes – but it seems that if you want baguettes after 11 in the morning then you stand an almost zero chance of finding them around holiday times!!! We also did some sight seeing on the island – and in particular visited Fort Napoleon, which was supposed to have played a crucial part in the Battle of the Saints in the 18th century between Britain and France. However, it could not have been all that crucial as the British devastated the French fleet! Well we then went for a beer and looked forward to the evening's entertainment of live music and general merry making in the town. However, our entertainment was to be of a different kind when lots of other boats (mainly French from Martinique and Guadeloupe), decided to come and anchor very, very close to us. Anything I mentioned about the high winds we were experiencing, and the veer and yaw of the moored yachts was met with a gallic shrug, after which they all went ashore for the evening.
Well the inevitable happened and the wind got up, the boats started to yaw and veer on their anchor chains and we came within inches of colliding. So I ended up going on their boats and letting out more chain, putting out fenders etc etc. Lesson learned……….be more insistent if you think that someone else's anchoring is gong to make your evening more entertaining that you would like!
Apart from that, the music went on until 6 a.m., the fireworks were great and even though the wind increased in the anchorage we still had a good time. So we decided to leave at 6 this morning. But we're still having fun! The weather this morning is brilliantly sunny. We've already seen so many turtles – big ones too, and whole flocks of flying fish. We'll go ashore a little later to explore a river creek that we have seen.
Meanwhile some more photos……..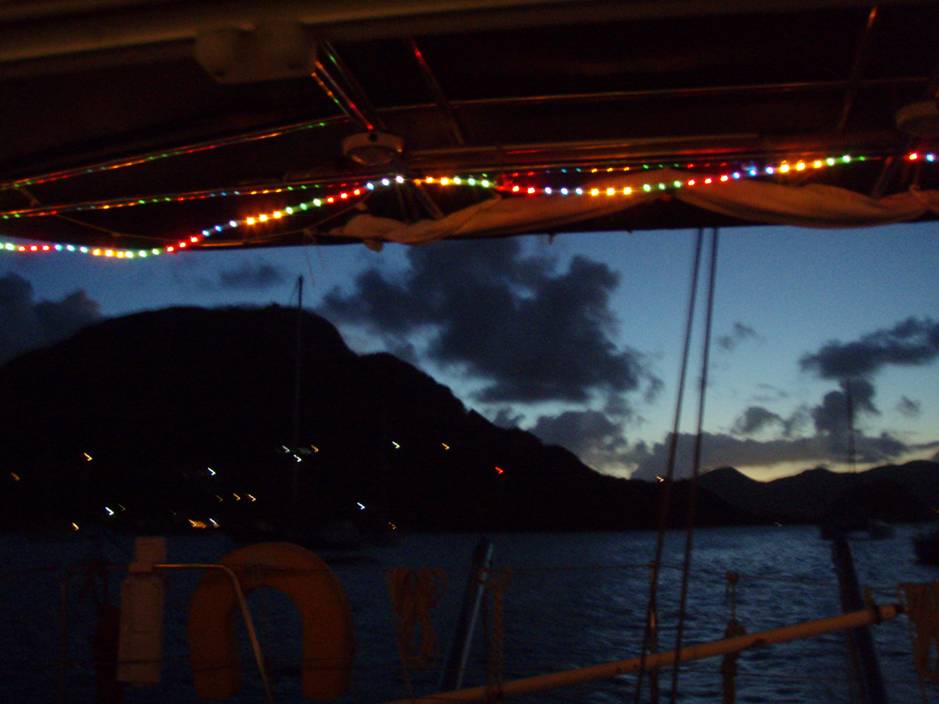 Christmas lights up on the boat, anchored in Iles des Saintes
The view over Terre de Haut in Iles de Saintes as seen from Fort Napoleon
The inner keep at Fort Napoleon
The 'rough anchorage' on the Atlantic side of Terre de Haut. There are 3 wrecked yachts here, can you spot them? Look in the water and on the
Edge of the bay.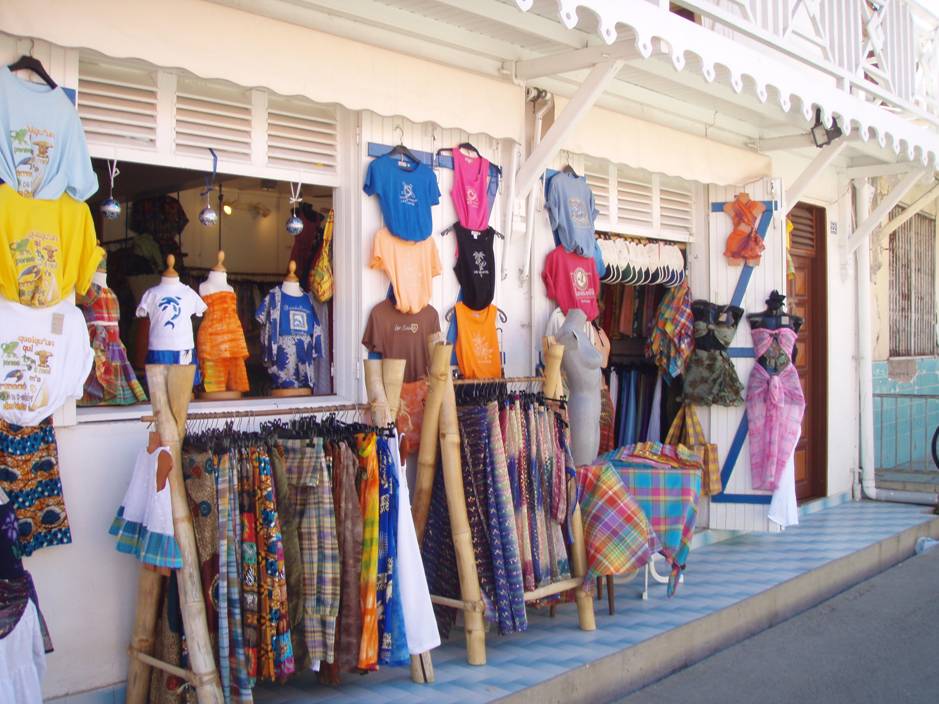 A clothes shop on Terre de Haut
A view through the village houses on Terre de Haut
Fireworks on New Year eve – Terre de Haut
And a very Happy and Prosperous New Year to all of you – we hope all your wishes come true….!! Paul & Anette
---