Talulah's Log

Talulah's Web Diary
Paul & Anette Morris
Mon 19 Mar 2007 20:27
position "1

1

:

59

.

840

N 061:4

5

.

701

W"
The last few days were odd. Hog Island had a load of boats anchored with folks who had been living on the boats in the same anchored position for 4 years or more in some cases. They all had 'jobs' ashore, had not moved at all (even in hurricane Ivan!), and kept their own countenance. We barbecued with them on Sunday, and found it very strange how they lived on yachts and yet very rarely put to sea in them.
We came around from Hog Island this morning - via a long detour south to try out the sails which hadn't been used for a couple of months; and were 'rewarded' by the sight of some broken bungee cords fastening the sail to the track cars on the mast. This was no real issue and we fixed them once we anchored later. But the sailing was great as we blasted along on a beam reach at 9 knots in 25 knots of wind from the east. Perfect! The sea was running a 2 to 3 metre swell, and breaking into the cockpit as we crashed along. We thought of carrying on to Trinidad, but turned about after a while as we have other great things on our minds......
Bob and Denise, our good buddies are coming down form the US, to sail with us for 10 days, and we're really looking forward to seeing them and having fun together.
We're anchored in Prickly Bay at the moment, having just gone alongside for some fuel (expensive here). We have Wifi access (Yaay!) and suddenly the 'rest of the world' is a little closer. There are 'live-aboards' here too, but the difference is that these folks appear to sail - a lot! With yachts from places like the US, Australia and New Zealand, as well as more than a liberal sprinkling of yachts from Europe - mainly UK.
Rogers Beach bar again - and the sight of a great 'Barby'
Aftermath of the 'Barby'.......!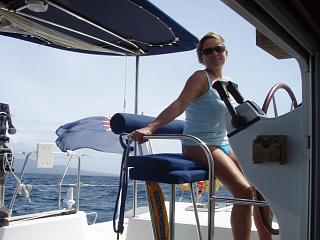 Anette trying to take us all to Trinidad
---