Guadeloupe & Iles des Saintes

Talulah's Web Diary
Paul & Anette Morris
Fri 20 Apr 2007 22:17
position "1

5

:

59

.

779

N 06

1

:

44

.

773

W

"
We left Antigua in a south westerly (unheard of!) wind and motored for a boring 5 hours towards Guadeloupe. The sky was sultry, and the air humid. It seemed that the trade winds that had been with us since late December had decided to move further south and not to bother with the Leeward Islands. So it's south that we're headed again, towards the Windward Islands where we may pick up the easterly Trade winds in a day or so.
We anchored for a night at Deshais (pronounced day-hay!), but did not go ashore as the swell and the surf on the beach were a little high for our small dinghy. So we stayed on board drinking rum and watching lots and lots of turtles in the Bay.
Then we left early on Friday for a sail(?) down the western side of Guadeloupe. Well we got a good bashing in the south-westerly swell and the winds that changed direction at least twice an hour. The worst of it was though, that the weather broke all but my last good whiskey glass! I shall now have to stop drinking Scotch - or use a plastic beaker (hope my friend Bob (a Scotsman) will forgive me!). Anyway we arrived at Terre de Haut on Les Saintes, found a good spot close to a Wifi connection and surfed the web before jumping in the clear waters for a swim.
We'll stay here for a day or so and wait for the wind to change direction before sailing on down to Dominica............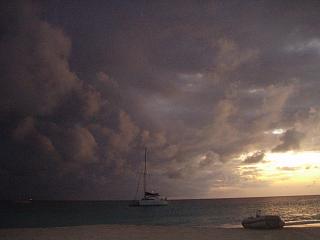 Talulah waiting for a squall off Barbuda Nelsons Dockyard, Antigua
Mrs Bartholomew, Antigua Someone else's yacht, (?) Iles Des Saintes
Galleon Beach, Antigua A Mermaid..............
---