Antigua and Barbuda

Talulah's Web Diary
Paul & Anette Morris
Wed 18 Apr 2007 14:26
position "

17

:

33

.

500

N 06

1

:3

2

.

000

W

"
Wednesday

1

8

th April 2007
This has been an exciting few days. The sail up to Barbuda from Green Island was great. We saw whales and turtles on the way into the brilliant turquoise waters in the reefs that surround Barbuda. Barbuda has some of the whitest sand I've ever seen, and some of the most prolific coral nodes on any reef we've seen. Navigating into a safe anchorage off Cocoa beach was interesting, as Anette had to stand on the forepeak, scanning the water for coral heads which lurked just below the surface, as we crept slowly into the shallows just off the beach.
We got ashore for a barbeque, swam amongst the coral heads and watched the sun go down in an 'angry' sky. It looked like it might rain later in the evening - and rain it did! The wind veered, a squall blew up and we found ourselves on a lee shore. Well, we couldn't really move as there were coral heads all around us, but our anchor held, and we maintained a watch until the squall passed. Another drama was unfolding about a hundred metres away however, as a very large (70 metres) French Catamaran, that Anette and I had commented on being far too close inshore, got blown into the beach! We watched as the French cat' turned this way and that, and eventually backed her way off the beach and motored backwards through the anchorage (and the coral heads!!), to find a better place to anchor. All this was going on as the other yachts in the anchorage were bucking and turning on their own anchors, and it was blowing a gale! The French Cat did suffer some damage, as there was a lot of excitement on deck and in the water, the next morning. But what that was I don't know.
Well anyway, we're back in English Harbour, Antigua at the moment, having had a pretty awful trip down from Barbuda trying (unsuccessfully) to dodge squalls on the way. From here we will continue south again now, on to Guadeloupe, and then to retrace some of our journey back to Grenada, via some places we haven't yet seen.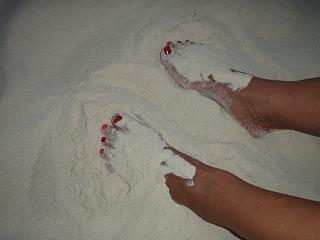 Beach at Barbuda Whose feet are these?
A chalet on Barbuda The barbie site.....
---