Antigua Sailing Week igang

Maggy V
Petter & Kirsti
Wed 30 Apr 2008 15:48
Her på Antigua er det hviledag i dag, og vi har seilt tilsammen 4 seilaser. Resultatmessig er vi ikke helt fornøyd, men vi har nå én annen plass, to tredjeplaaser og én fjerde. Solness III, som vi seiler, er en J 133, med karbonrigg og 3DL seil, og dermed har vi fått høyeste rating i klassen. Det holder med andre ord ikke å være først i mål, vi må slå dem dem opptil 10 minutter, og det har vi hatt problemer med.
Men moro er det. Her er noen av gutta ombord på Solnes III:
Fra venstre Lars, Herman (eier og skipper), Trond, Petter og Roderick. Dette utgjør altså den norske kontingenten ombord, med unntak av Rederick som er sveitsiskamerikanskungarsk eller noe sånt. Vi har også 4 spanjoler ombord, med de var på en annen fest da bildet ble tatt.
Før første seilas var Petter litt for ivrig, og tryna på fordekket som den store klossmajor han er. Derrmed fikk han med seg bare de første seilasene, og Kirsti steppet inn på de to neste, mens Petter prøvde å holde en forslått lårmuskel i ro. Men, er forhåpentlig klar igjen til tordagens seilaser..
Det er en imponerende flåte som deltar, den heftigste båten er Leopard, en karbonfiberkasse på vel 100 fot, som sikkert seiler 14 knop på kryssen, og som går vesentlig fortere med litt stikk i skjøtet. Dermed er det ikke så lenge de dekker oss når de passerer oss, selv om Solnes er en utrolig rask og morsom båt.
Her koser Roderick seg, klar til å vinsje!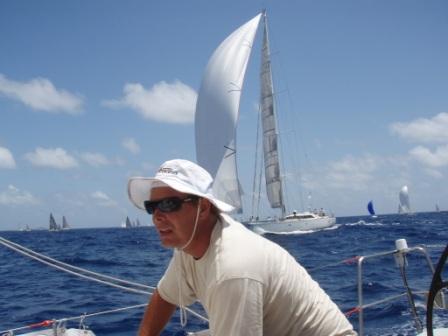 Slik ser regattaen ut fra land. Det skal innrømmes at Kirsti var mest fokusert på Aloe Vera planten i forgrunnen som nå blomstrer. Det er ikke helt som hjemme det her...
Ellers kommer et par bilder fra BVI, først hvordan det er ombord i Maggy V.
Deretter hvordan det er under vann, det er nemlig ganske klart:
Først Kirsti i vannskorpen:
Så Petter på bunn (ikke mentalt)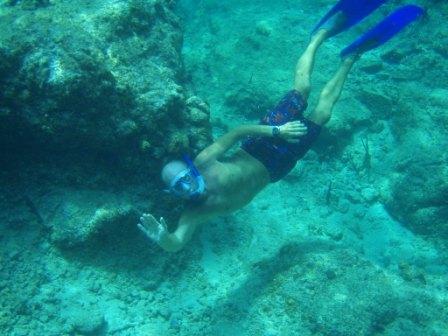 ---