Minste båt i havna, lille Maggy...

Maggy V
Petter & Kirsti
Fri 21 Mar 2008 17:09
Vi ligger nå til kai i Englsh Harbour på Antigua for utskifting av mannskaper. Vi ligger litt klemt mellom Lohengrin (161 fot) og tiidligere Assa Abloy (volvo ocean race båt på 60 fot), samt diverse andre seil og motoryoachter på mellom 120 og 200 fot.
Når turistene fra cruise skipene går forbi på kaia, høre vi kommentarer som "look at that little one" eller "do you think all those people live onboard such a small boat?... has it come all the way from Oslo?" For akkurat nå er vi syv ombord, og det er omtrent like mange som på Lohengrin ved siden av oss.
Vi har studert våre naboer på Lohengrin litt. Mannskapet består av yngre europeere med godt utseende, de har alle sammen like, nystrøkne og stilige piquet trøyer og de varierer melom røde, hvite eller blå trøyer på forskjellige dager. Mannskapet på 9 er i gang med å polere klokken 7:30 om morgenen, og kommer det en liten skur, er folk straks på pletten for å tørke vekk slik at det ikke blir en eneste flekk. De har fått to gjester ombord, og store deler av mannskapet deltok i prosjektet "få blomsteroppsatsene på plass" formiddagen før gjestene kom. Det ser ut som om de to gjestene kjeder seg litt, selv om de ser på satelittTV på den store nedfellbare flatskjermen eller hører på Elton John . Mannskapet, derimot, fortsetter å polere, de som ikke serverer altså. I motsetning til turistene som synes synd på oss, er nok mannskapene på Lohengrin litt misunnelige. Ombord i Maggy kan man godt barbere seg en gang i uken, man kan gå i bar overkropp dersom det er varmt, og så kan man dra og bade når man vil. Det kan ikke de, selv om de har 2 * 275 HK på jolla, og vi bare har 3,3.
På den andre siden ligger tidligere Assa Abbloy, og ombord der er en kroat som venter på sine medmannskaper til Antigua race week. Han er av en annen rase enn mannskapene på den andre siden; ubarbert og med bar overkropp inviterer han oss ombord for at vi skal få se hans karbonfiber og kevlar hverdag. Ifølge de kvinnelige ombord på Maggy er han også mye mer sexy.
I dette miljøet feiret Ole Petter sin 20 års dag, som startet med at han ble gratulert med dagen over eteren fra English Harbour radio, på VHF kanal 6 med klar Queen's English aksent. På programmet stod også champagne og paté til tonene fra Champagnegaloppen, se under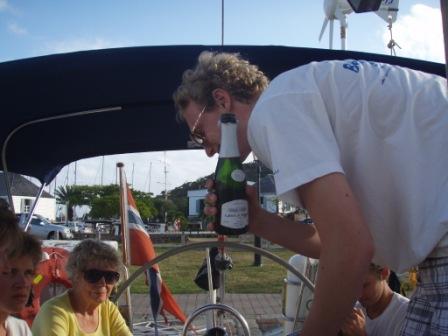 samt bespisning på Admiral's Inn, en av de bedre stedene i havna.
Vi får håpe han ikke har tatt skade. Dog er det etablert en tradisjon om at alle runde år bør feires i tilsvarende miljø...
Maggy V
---