Time up in Thailand

Gaviota
Fri 24 Mar 2017 09:36
7:49.048N 98:21.279E

We finally left Yacht Haven on Tuesday, 21st with quotes promised for a) woodwork b) hull paint c) new bimini d) repair to prop shaft – 7 days later and still not a single quote!!!!!
South again and enough wind to sail so a very wet Spinnaker was hoisted and we drifted along slowly.

Another night at Ao Yon then back round to the West coast on another Spinnaker run – this one became a bit hairy as there were strong gusts from the East as we sailed around the Southern tip and after the boat had nearly been on her side twice and the very ancient Spinnaker was looking like it would not see another sail, down it came and we finished the trip to Patong Beach with the Genoa.
Saturday's Hash with Phuket Hash House Harriers was an hour's bus ride away and was a long 6.7km flat run through rubber plantations (my sort of Hash – Syd not happy!)

He got a treat on Tuesday, 28th (last day in February and 18 days 'til we have to leave Thailand), the once a month Kamala Koma Hash was a very tough hill climb, Syd had a smile on his face as he sped ahead of people half his age to the summit, I struggled.

It was the toughest Hash we have done here and 1 hour 21 minutes later I finally got back to the beer stop, Syd already 2 beers ahead!
A strong 20+ knot gusting wind had filled in from the East so we decided to stay at Patong Beach for the rest of the week and do the next Saturday Hash on 4th March – time for some serious hill training.

Thursday with muscles beginning to mend we did a pretty extreme hike up the hill behind Kalim Bay – this was the 3rd time we had attempted this very steep hill and armed with Garmin we timed our progress.

After a short rest stop at the top of the steepest part we carried on up and up to the Patong Zipwire attraction.

We arrived there mid afternoon and were greeted by the manager who gave us water and a guided tour which was a big surprise as he also runs an Organic Farm and Rare Breeds sanctuary, we toured the greenhouses, tasted his organic strawberries and saw chickens, turkeys and ducks.

There is a small Muslim commune that tends the Farm and cooks for the guests who venture up to do the Zipwire – our host seemed very keen that we stay the night but the mosquitoes were starting to get very hungry and we made our excuses and left before we ended up becoming part of the remote jungle scenery.

It was a very weird and unexpected find made even weirder by the fact that the Zipwire used the Jurrassic Park logo for it's advertising and hiding in the trees were a selection of full sized foam dinosaurs!
Back to earth again and another Hash – this one was about 40 minutes from Patong Beach and was another jungle hill Hash.

There was a big turnout and the trail was superb, the hill training paid off and we both found it a lot easier.

It was a tough 6-7 km jungle scramble, Syd had only consumed 1 beer by the time I got back!
Sunday, 5th March, we sailed North up to Bang Tao beach so Monday morning I continued my training with a swim to shore and run along the 5km beach.

The beaches all up the West coast of Phuket are superb, fine white sand and all are lined with trees hiding the development behind.

There have been a lot of restrictions put on tourist development in this area and a lot of areas are National Park.

In the afternoon we took the boat the mile offshore and anchored off the tiny rocky islands of Koh Waeo – this we had read offered some of the best snorkelling and diving in the area.

The water was clear and there were some fish but the coral was in a poor condition and it didn't take long before we decided it was not very interesting!

So we sailed further North and anchored in Nai Yang Bay a nice tucked away bay surrounded by reef at the Southern end of the vast Mai Khao Beach (this beach was so long you could not see the end of it!).

The end of Phuket International Airport runway is over part of Mai Khao Beach and the planes were constantly landing with the next loads of tourists.
We had planned to visit the Similan Islands (allegedly the best place for diving and snorkelling) but the combination of it being over 50 miles away with very little wind forecast and our disappointing trip to Koh Waeo we decided not to and after a nice couple of quiet days (no watersports on this beach!!) of doing very little we got the Spinnaker up and very slowly sailed South back to Kata Beach.

It was a bit of a shock getting back to the crazy jet-skis and paragliders and hundreds of tourists again but the plan was to do the walk to visit Big Budha!
Big Budha is a 45 metre high alabaster statue of Budha, it dominates the skyline overlooking Phuket, the statue is a work in progress and is on a very grand scale.

Visiting the statue is free but visitors are asked to contribute to the building work by buying cement, tiles and other building equipment.

The monks have their own prayer place next to the statue and the area has a lovely peaceful feel to it even with the thousands of tourists who make the pilgrimage there each day.
There is one road that climbs Big Budha Hill and it starts off the main Ao Chalong to Phuket road – not for us adventurous people!

I had read on the internet of a hike from Kata Beach up to the statue so we headed off – unfortunately a lot later than planned as the morning had started with a 20+ knot wind blowing that made rowing ashore impossible.

So in the heat of the midday sun we began our trek.

The first part of the walk was a bit tricky to find but once on the trail we were surprised to see signs and a mainly concreted path which wound it's way up and up.

Eventually this joined the road and 4 litres of water later we were at the summit.

Nobody could be unimpressed by the size of the statue and wowed by the stunning views over Phuket and out to the islands.
The walk down was a lot easier and helped by a late lunch stop and mango smoothies (the fresh fruit smoothies in Thailand are superb and at 50p a glass very easy to drink).
Having paid a visit to the elephants on the way down the hill we arrived back at Kata Beach just in time for the sunset.
Friday, 10th March and the 20+knot wind was back – time to go sailing.

With just the Genoa out we sailed out of Kata Beach and back North to Patong Beach for our last Saturday Hash.

We picked up speed and flew along at nearly 6 knots then the wind died and did it's wind/no wind thing 'til eventually the motor had to go on.

We executed a marine rescue crossing Patong Bay as a young couple on a Hobie Cat had capsized and could not right it.

Syd to the rescue not aided by 2 Chinese couples on jet skies who thought they were helping!

A rope was tied to the Hobie and Gaviota tugged – up it came – bye bye rope and we were away.
Later on when we had anchored we had a visit from the sailor of the Hobie and the guy who had rented it out, they returned our rope with big thank-you's all round.
It was our final Hash with Phuket Hash House Harriers on Saturday on a very hot day – temperatures now have soared and humidity levels are high so dehydration when running is a big problem.

The Hash was up in the hills and had had to be shortened to under 3kms at the last minute when an irate landowner turned up with a gun!

It was a short steep run followed by lots of down downs as we officially became members of Phuket Hash and leavers at the same time.

The Hashing here has been brilliant and has encouraged us to do a lot of exploring in the hills and jungles ourselves as well as seriously improving our fitness.
Sunday, 12th March and another scorching hot day so we did our serious hill hike up from Kalim Bay into the jungle, this time following another route which took us around the ridge and down into Patong Beach.

It was a long tough hike but fascinating to see how some of the local people live up the sheer sides of mountains surrounded by dense rainforest,

they access their houses on motorbikes which you would think would never be capable to climb the ridiculously steep rocky tracks – but they do.

We certainly wondered what it is like living up there in the wet season!
It has been great to see another side to Phuket a million light years from the crazy tourist packed resorts at the beaches.
Monday, 13th March and there was a North West wind blowing into Patong Bay – time to leave.

Mainsail and Genoa up and we did a lovely fast exit with a superb tack in front of the huge cruise ship which was in.

The sail down the coast was fast once we got out of the bay with the wind behind us.

We tacked around the Southern point of Phuket at Naihan Bay and sailed into Ao Chalong, then the wind died and it was a motor round to Ao Yon where we will spend the last few days provisioning and buying final things before we check out of Thailand and head back to Malaysia to hopefully get boat repairs underway.
During our motor into Ao Yon Syd noticed vibrations being transmitted through the floor which did not feel good so once anchored he kitted up with wetsuit and fins and dived under the boat to find a large plastic bag wrapped around the propeller, so armed with a knife he hacked it off and at the same time scraped off as many barnacles as he could.

It was a big relief that it was not one of the fish traps we had managed to avoid so well for the past 3 months but sad to think of the marine life that is cruelly destroyed by careless people.

I had visited a turtle sanctuary at Ao Yon on our last visit and was shocked to see so many turtles that had been rescued with hideous injuries caused by rubbish and pollution – a fact common to most of the world's Oceans and Seas nowadays.
Another big dread reared it's ugly head when on Wednesday, 15th March morning we started to pull up the anchor to go round to Ao Chalong to provision and it appeared to be struggling to come up – not at all surprising when a huge fisherman's anchor appeared under the boat, this required Syd in dinghy to work out a hoist system to allow him to unwrap our anchor chain.

It was a slow job but eventually we had the old coral encrusted anchor tied to one side of the boat while I quickly got up our anchor and simultaneously dropped the old anchor back to it's resting place on the seabed while Syd steered Gaviota clear of the hazard.

We were so late with our shopping trip that we ended up returning in the dark.

One fantastic thing about Thailand is that the shops are open all hours.
Check out tomorrow and we plan to take a different route back down to Langkawi – watch this space . . . . . . . . . . . .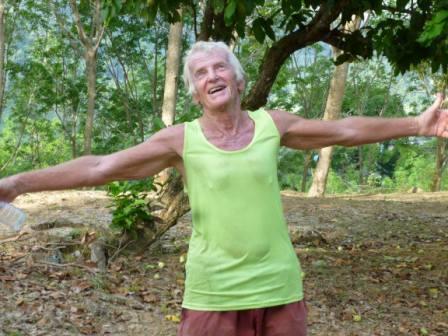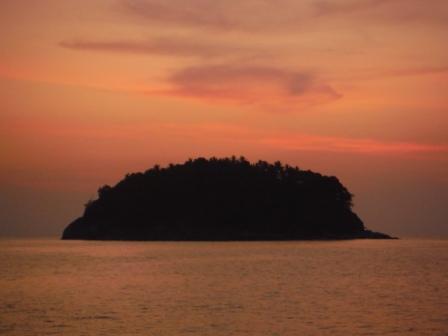 ---