Komodo National Partk

Gaviota
Sun 28 Aug 2016 04:25
008:24.95S 119:16.75E
It was certainly an action packed day at Rinca!

We arrived about 10.00am and acnchored in the narrow bay at Loh Buaya where the Visitors Centre is.
We went to pay for our tickets and discovered it was National Day (public holiday) and the entrance fee was double!!!!!

A ranger called for people for the 'long hike' – apparently there was a short, medium and long hike (news to us).

We asked if we could join the 'long hike' and headed off with a large German with an even larger camera, a French couple in flip-flops and a ranger with a long forked stick.

Our first sighting of 'dragons' was under the ranger's kitchen.

There were 4 large very scary though well fed looking dragons lounging there waiting for scraps to be thrown to them.

We got lots of pictures and assumed that would be our only sighting as we trecked off into the wilderness.

We soon left behind the visitors on the short and medium trails and our ranger strode on with a purpose.

There was a rustle and yes a small dragon, so lots more photos.

Next rustle and this time a water buffalo.

We were on a roll here, then came the most incredible sight, in a water hole a pack of dragons were feasting on a dead water buffalo.

We all stood like statues and watched partly in fascination and partly in horror as the dragons clawed and chewed their way into the carcass – this was nature in the raw and showed what these rare pre-historic looking creatures are capable of.

Interesting facts:- Komodo Dragons are carnivors, they bite their victim and their saliva contains a poisonous bacteria which kills the victim.

They wait and then feast.

They can run fast for short distances at speeds up to 20 kms.

They are of the crocodile family and live up to 50 years of age.

They can run, swim, climb and BITE.
We returned to Gaviota and found in our absence the tide had gone out and she had swung round inbedding

her propeller in the mud – oh shit!!!!!

Syd tried and I willed the engine to pull her out of the mud but no and the tide was going out quickly.

We were surrounded by local boats and eventually a dive boat came to our rescue.

Syd attached a long rope to the mast and explained to the guys on the boat that the only way off was to tilt Gaviota on her side and try and get the propeller out (engineering skills once again).

They eventually understood and drove their dive boat in the right direction.

Gaviota leaned and Syd throttled as much as he could and eventually we were off and with huge thanks all round we made a very hasty exit to re-anchor and recover!
The next day we visited Makassar Reef and snorkelled.

A lot of the coral was in a poor condition but some areas were okay and we did get to see 2 small manta rays.
We overnighted and snorkelled at Sebayor Kecil, Gilli Lawa Darat, Loh Gebah and Gilli Banta before heading off on the 130 mile trip past the next island of Sumbawa to make a stop at Moyo Island.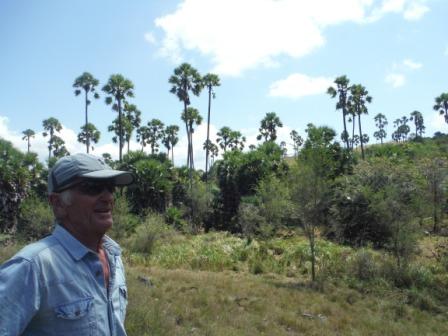 ---