Benoa Harbour to Lovina Bay Bali

Gaviota
Wed 7 Sep 2016 09:56
008:09.52S 115:01.38E
First stop was Amuk Bay on the East of the island and after a rolly night we got the sails out and headed up to Amed where we spent a couple more rolly nights but enjoyed swimming in the flat calm sea minus the dangers of speed boats but with the added danger of the sewage which was being pumped in (a regular happening!)
We then had a long sail (5 miles!!!) up to Tulambon and anchored in the bay to snorkel on the wreck of the US Liberty – a steamship which had been torpedoed by the Japanese during the war and now was classed as one of the best dive sites in South East Asia.

The visibility was disappointing and it took us quite a while to find the part you could snorkel on which was about 5 metres below the surface but there were lots of fish and an amazing amount of coral growing all over the structure.

The main part of the boat is too deep to snorkel on and there are continually hundreds of divers swarming all over it from early morning dives to night dives.

The black sand bottom being churned up by hundreds of fins and the hefty swell which continually rolls in certainly spoils what would probably be quite a nice dive.
We spent yet another very rolly night at Tulambon and set off at 7.30 am to hopefully sail up to Lovina Bay in the North – no wind!!!!

After trying poles and sails Syd's downwind sailing system was not happening so on went the motor – again!!!!

The wind did pick up after a couple of hours and out went the tried and trusted downwind sailing system again this time with more success as the wind increased in the afternoon and we started to reach very respectable speeds of 8+ knots.

We arrived and anchored at Lovina Bay at 3.30pm after a really enjoyable sail.
Photo of a fish trap - these are everywhere making night sailing impossible and day sailing hard work!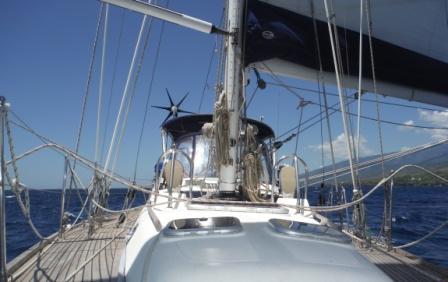 ---