Moris Island to Portland Roads

Gaviota
Thu 23 Jun 2016 03:49
12:35.566S 143:24.434E

Left Moris Island 7.30am – the sky was black and clouds were building.

Forecast was 70% chance of rain so we were going to get wet.

The wind was already blowing so mainsail went up with 3 reefs in and the 2 genoas out on the same side and we sailed a broad reach.

Not far out of Moris Island we picked up our first hitchhiker of this year's trip – a gorgeous fluffy cute and cuddly baby brown booby, it sat right next to me and I stroked it's feathers.

It kept opening it's mouth for food but definitely wanted fish not the bread we offered.

After a couple of hours it flew off, then returned and having battled with the sails and the wind generator it managed to adopt helming position.

Eventually it flew off and joined a flock of other seabirds who were busy fishing.

From there on it was squall after squall, a lot had rain in and some had a lot of wind.

The coastline regularly disappeared behind the black clouds and it definitely did not look like the Tropics!

We were both soaked and though it was not cold it felt pretty miserable but as we arrived at our destination for the night Portland Roads the clouds at last lifted and we were treated to some late afternoon sunshine as we sailed in with just the mainsail up.
Portland Roads had been described as 'prone to swell'- not what you want to hear after a long wet sail but it turned out to be okay – only problem was our gas ran out as I was cooking dinner and we only have a small amount in the spare bottle – hoping the microwave will work as otherwise it is tins until we reach Thursday Island (first stop with a supermarket).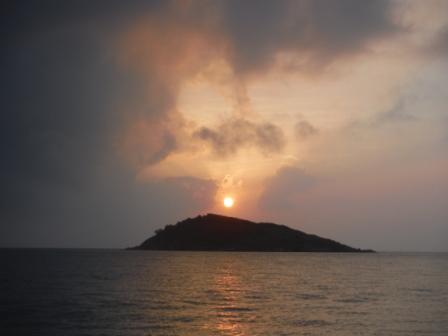 ---