Kumai to Belitung

Gaviota
Wed 12 Oct 2016 08:27
002:33.52S 107:40.61E
Our next leg of the journey was the 260 mile crossing to Belitung.

The journey started well with a nice sailing wind from the South East.

The water across the whole of the Java Sea is shallow and off the Kalimantan coast there are many sandbanks.

Syd had plotted the first part of the journey taking us through a network of sandbanks which are shown on the Charts but cannot be relied upon to be exactly where they say or the depth they say, partly due to the inaccuracy of the Charts in Indonesia and partly due to the nature of sandbanks which regularly shift.

The weather since we reached Kalimantan had been cloudy most of the time but very hot, we have had several heavy rainstorms including 2 which filled the dinghy with water and one day we collected 100 litres out of a small tarpaulin strung across the back of the boat – we had a good wash that night!

This 2 night crossing to Belitung was to be the wettest we have had for a long time.

The squalls started, the first had wind and rain in it and the boat picked up speed and got up to 8+knots and by midnight we had negotiated the worst of the sandbanks and fishing boats.

The sea had picked up with the wind and we lurched on through the night.

By morning of day 2 we were motoring again in very rolly seas with lots of rain.

Then the next squalls piled in, these were full of rain so we huddled up under the leaking bimini and willed Gaviota to get there faster.

The wind dropped and on went the motor as what wind there was was directly on the nose!

The rest of the way was under motor (we had topped up with fuel in Kumai so were on full once again).

We spotted Belitung about 4.00pm and decided if there was a chance of going into a bay and getting a night's sleep we would take it.

By now the clouds had disappeared and a lovely half moon lit the tranquil sea as we slowly edged in and anchored in a bay which had some shelter.

After a good nights sleep we left at 6.00am and motored out in beautiful sunshine into a glassy sea (what a different day!).

The trip round to the North of Belitung was another 45 miles and it was motor on all the way.

We arrived early afternoon at the lovely anchorage in the North of Belitung with it's picture postcard powder white sand beaches and large granite boulders.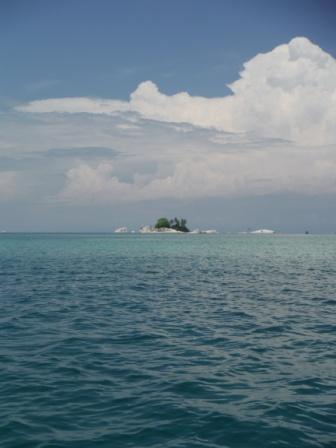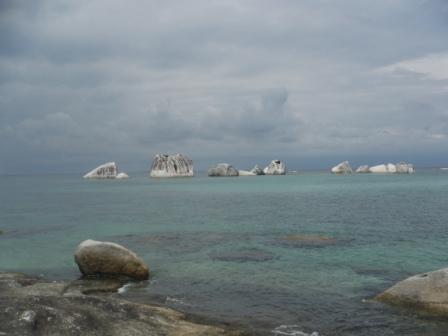 ---