Gaviota of Cowes first web diary post

Gaviota
Thu 8 Nov 2007 08:24
From Annabel on AJYmail 08.20 Thurs 8 Nov
Gaviota Pre-ARC2007 Gibraltar-Gran Canaria
After many months of preparation and packing up our previous homes and lives, Syd and Annabel flew down to Gibraltar on 29 Oct 07 with quite a bit of excess baggage. We spent a few days cleaning the usual building site dirt from Queensway Quay off Gaviota, provisioning from Wm Morrison, and finishing off some major installation jobs.
On Tue 30 Oct we sailed out of Gibraltar to a easterly F5 in the straits and enjoyed testing the new main sail across to Marina Smir at 35°45.20'N, 005°20.3'W.
We 'found' Smir last winter; the marina is big, empty and very quiet but the workshop is friendly, efficient and good-value with a 150tn travellift and plenty of hard standing space where you can do your own work on the boat as well. We had the keel scrubbed and re-anti-fouled and replaced most of the anodes.
….picture of G out of water Feb07
At 08.45 on Friday 2 November we left Smir on our passage to Las Palmas, Gran Canaria for the start of ARC 2007. We enjoyed F6-7 easterlies with gusts of up to 40kts and a favourable tide flow through the Straits and surfed at speeds of up to 12.5kts. Out of the Straits into the Atlantic, the winds gradually dropped to under 5kts, finally causing us to use the engine during the night. On Saturday 3 Nov we started with 20kts of wind early in the morning, but this soon dropped again; we tried the spinnaker for a couple of hours, but had to drop that at midday and motor again. We then motored until we reached the Canaries on Tuesday 6 Nov.
This calm weather did however enable us to test some of our new kit, particularly the Maxsea navigation software, including getting weather grib files using our new Iridium satellite phone. The generator had been spewing diesel when we tried it on Friday so that took some fixing because of its location, although luckily it was only a loose nut. We had filled up with diesel on leaving Gibraltar, but the smallest tank ran out early on the Monday morning – not surprising after all the motoring !
Apart from lack of wind, the weather was enjoyably warm and sunny during the day but cool enough at night to need full 'oilskins' over trousers and long-sleeved shirts when up on deck at night. There were great sunsets, and a fabulous show of stars and a crescent moon every night.
Our watch pattern of 3 hours each, starting at 20.00hrs worked well, with Syd getting enough sleep and Annabel enjoying the dawn watch; camera out again for the sunrises: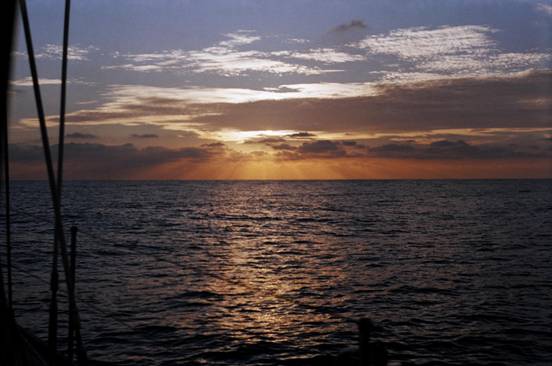 Not captured on camera were the large turtle we caught sunbathing on Monday, the little brown birds which visited us most mornings but couldn't be identified, although Annabel did manage to identify some storm petrels from the useful little seabird book she'd borrowed from a friend in Glasgow.
We saw the usual collection of tankers, unpredictable fishing boats and other yachts by day and night; we talked to a French yacht which followed us on Sunday and Monday. On Sunday the QEII sailed past on one of her final cruises.
Early on Tuesday 6 November we reached the northern tip of Lanzarote in time for a particularly good sunrise:
We had decided to go into Marina Rubicon, 28°51.6'N 13°49'W near Playa Blanca at the southern end of Lanzarote on Tuesday for a night or two as we were not due in Las Palmas until Saturday 10 Nov and Annabel had enjoyed it in January this year whilst doing her Day Skipper course with Sunsail.
The wind got up to 8kts sailing along the western coast of Lanzarote, so we were able to turn the engine off for a blissfully quiet, if slow, sail. Then it increased as expected in the straits between Lanzarote and Fuerteventura for the last hour into Rubicon, which we entered at 14.30.
Although the passage had been (too?)easy with all the motoring and we felt we'd got enough sleep in our off-watches, we felt really shattered, like being jetlagged. Syd did a couple of little jobs on the boat and Annabel went off to get these photos developed and some essentials from the supermarket, then we walked all the way into Playa Blanca to a great little fish restaurant at the harbour there for an evening meal and enjoyed a full night's sleep. On Wednesday we met another ARC participant and his wife, did some admin on the computers using the marina's wi-fi connection, had a tasty lunch in a café and cleaned the hull and some of the rest of the outside of the boat. We decided to stay at Rubicon until Friday 9 Nov when we would sail to Las Palmas overnight.
---