Gloom and doom in Mindelo

JJMoon Diary
Barry and Margaret Wilmshurst
Fri 7 Jun 2013 19:03
This was to be a quiet, reflective piece about a happy week in Mindelo. Instead it is a story of trouble, strife and frustration.
We set off yesterday afternoon (it had been a happy week) and re-fuelled with some difficulty. There was a swell at the fuel berth and every roll of the boat induced a bubble of air to escape up the filler pipe, reverse the flow of the diesel and splash it over the deck, my shoes and into the sea. I envisaged a massive fine for pollution to add to our worries. Five miles out conditions were pretty fierce with 30 knots of wind and a short swell. We decided to wind in some more of the mains'l; the in-mast main's equivalent of a second or third reef. The sail fell apart under the load, splitting vertically about a quarter of the distance from the clew, then violent flogging with no means of control shredded it to tatters in a very few minutes. I have never seen anything like it. Three of the six battens were ripped out of the sail and disappeared un-noticed without trace. The rear part of the sail and clew outhaul wrapped round the wind generator and broke two blades and the cone. On arrival back in the marina in the gathering gloom our next-door neighbour Hans gallantly leapt to help get the remnants of the sail down and free our busted wind generator from entanglement with bits of sail and running rigging that had no business to be anywhere near.
We are now back in our old berth. We have checked in again with the office and the authorities, marked by a delightful absence of fuss. Immigration just stamped "ANULADO" on our exit visas and declined any further fee or crew list. The Maritime Police had to wait for a chap with four stripes on his uniform but then confirmed that no additional paperwork was necessary, the forms completed previously would do. I began to regain my sunny disposition.
I have begun to research a new sail through several contacts, talked to the marina owner about imports (not as bad as I had been led to believe, apparently) and told some of those vitally concerned about the change of plan. Heh ho. Mags says it is all my fault anyway because I was just looking forward too much to a little "do" that was being organised in Dartmouth for our homecoming and I should know what deadlines do to cruisers' plans.
Actually, it could be worse. No one was hurt. We are securely tied up in a very well run marina owned and run by a knowledgeable, efficient and helpful German. There is excellent cold beer and good, inexpensive food only 50 paces from the boat. Apart from the RDYC "do" what more could we want?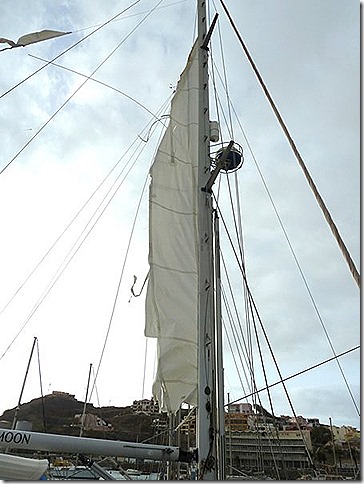 1 Hans up the pole disentangling our wind generator.
2 Remnants of the main torn along the line of a batten pocket. Another batten can be seen emerging from the sail.
---