Coast hopping

JJMoon Diary
Barry and Margaret Wilmshurst
Sat 26 Jan 2013 08:07
Only one hop so far, but it's a start. We finally let go of Richards Bay on Wednesday evening and tied up to the arrivals berth at Durban marina 0900 Thursday. It was a good trip by Indian Ocean standards but, a little unusually, Mags was happier than I was. I thought the wind was a little too breezy, the swell a little too rolly and the prospect of arriving at yet another unknown port a little too stressful. Also, at one point it sounded as though we had a foreign body attached to the prop, but the tapping disappeared. All in all it was an ideal "shakedown" cruise after three months wrapped in a comfort blanket. My own strangeportaphobia was instantly treated by the beautiful enunciation and clear instructions from Durban Port Control and the equally straightforward clarity of the exchange with the pilot of the big freighter about to overtake close to starboard prior to us following him in. Lovely weather too.
Looking back to our time at Richards Bay we found it a very ordinary town built in the 1970s to export coal and now dominated by a huge aluminium smelter. The centre consists largely of two shopping malls and a small light-industrial estate. But we were very happy there. The marina at Tuzi Gazi Waterfront is ramshackle but well managed and surrounded by goodish eateries. It is well placed for access to all local amenities. There is a good chandlery about 20 minutes walk away at the Zululand Yacht Club, which would also have been a good base. Richards Bay is a convenient centre from which to visit a large part of the country. We didn't expect to stay so long but don't regret it.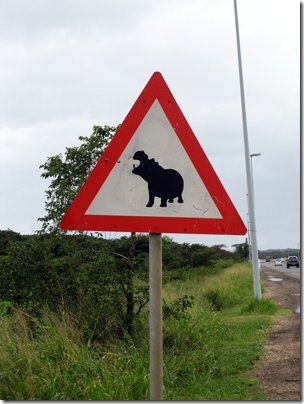 Hippo warning on the road from Tuzi Gazi marina to the centre of Richard's Bay. We didn't see any.
The plan was to leave Durban today, Saturday, but of course the window is going to close too early and there will be headwinds over the Aghulas Current before we reach East London, 250 miles away. There is no possibility of finding shelter any closer. Tuesday looks a possibility. There are several of us holed up here, some have been waiting for weeks, and it is easy for frustration to lead to premature action, and mistakes.
There are two good yacht clubs; the Royal Natal (it appears to be older even than the Royal Dart - hm!) serves excellent food and Point Yacht Club has a capacious bar and very good ablution facilities. The Point's Commodore has been round to extend a warm welcome. It all helps.
There is a whole blog that could be written about South African bureaucracy and form-filling but this is not the time to write it. What can be mentioned without reservation is the unfailing courtesy and frequent friendliness of all the officials who manage this monstrous pile of paperwork.
---