Back to Europe – on to Oz

JJMoon Diary
Barry and Margaret Wilmshurst
Mon 12 Jan 2009 05:26


Last year I determined that long-suffering blog readers should be spared the domestic trivia of our trip back to Europe but having enjoyed two of these interludes now I realise I have been mistaken. They are not breaks in our world-girdling adventure but integral parts which deserve at least a mention.

We have had a wonderful seven weeks. There is no doubt that absence makes the heart grow fonder and people have been heart-warmingly generous in their enthusiasm for seeing us. We have stayed with friends and family members for longer than we ever should had we been living in the UK, and got to know them better. We have had a multitude of meals at lunch times and in the evenings which can best be described as intensely pleasurable.
The family in Bath for birthday celebrations - Sarah is camera woman
Briefly, we landed at Heathrow on 12th December after a gruesome journey; recovered for three nights in a Surrey hotel while getting on with seeing people locally; stayed with friends in Kent, brother Martin in Romsey, then travelled to Bath for a great birthday celebration weekend sharing a house with the Potters and Wilmshursts, with invaluable input from the Nunns. Down to Plymouth for a week, a foray into Cornwall, back to Sussex and off to France/Switzerland.
Following further intense encounters I returned to England after five days, Mags after ten and we spent our last week in Europe at Harpenden.
We enjoyed a much better journey back to the antipodes where we were picked up in Perth and whisked to Dongara some three hundred kilometres to the north. We were treated to a superb Aussie Christmas full of fun, sea-food and traditional fare in the middle of Y-Not's loving family before rounding off the Aussie section with a visit to friends south of Perth that we hadn't seen for twenty years and a day's rubber-necking in Melbourne.
Getting ready for Christmas lunch. First catch your crayfish; measure them for size, et voila, a wonderful Christmas starter.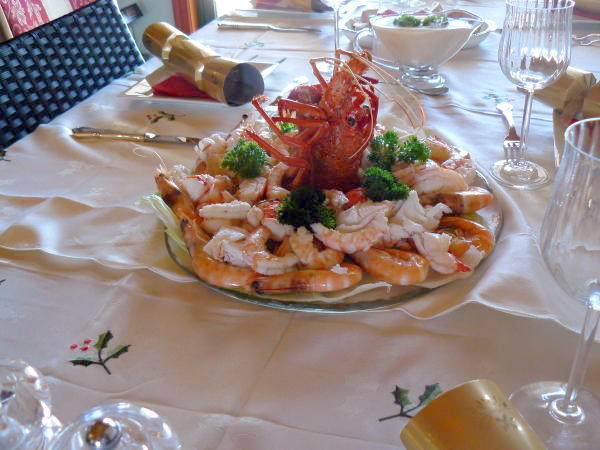 Heading back to New Zealand at last we benefited from experience. Airlines are strictly enjoined by government to stop anyone getting into the country without the means to leave again - generally a return ticket. Last year we did not have the paperwork and we also had another problem - we were massively overweight. By great good fortune we fell between the two stools and managed to slip in without having to buy the return or pay for excess. This year we were better prepared with evidence that we would be leaving under our own steam, so to speak, but even so the check-in lady had to consult her supervisor. However, we were the talk of Area D; our lady had "never dealt with one of these before" and we were nodded at and cooed over by her neighbours on adjoining desks. We always make it clear that we are by no means unique in this round-the-world thing - there are quite a few of us doing it, but I suppose in the great scheme of things our community of funny yachties is quite small.
We arrived back in New Zealand just in time for Auckland's New Year's Eve fireworks from the telecommunications tower. Walking round the harbour area the following morning we came across Ocealys, the catamaran that took part in the rescue of Timella's crew but to our great disappointment the gallant couple were not on board to receive our congratulations.
Fireworks from the telecommunications tower, new year, Auckland.
Once we had recovered our baggage on arrival at Heathrow (hold door frozen shut – the plane had to be parked in the sun for an hour), we didn't have a difficult moment or a scintilla of regret and we eventually got back to JJ Moon in a state of mild euphoria.
Now back to the usual round, but no regrets about that either.
---