Back in Rebak

JJMoon Diary
Barry and Margaret Wilmshurst
Sun 24 Jul 2011 08:53


We are back on board again after a wonderful European interlude. All four grand-children provided rich and varied entertainment (as they do) and their parents and other family and friends were very generously hospitable. We conducted a few bits of business in England and France and managed to find some necessaries that are difficult to buy out here. We shared many a meal and conversation with friends old and new and some were truly memorable. It was all too short – there was very little time to relax and chill out. As usual we did not want to leave but after two or three days back on board we are beginning to re-focus.
Grandson Adam in an inter-club 1500m race
A visit to Hatfield House to see the Henry Moore sculptures
One piece of business was a visit to the hip surgeon for him to review progress and look at a twelve-month x-ray. All very satisfactory apparently but the consultant was just as keen to share with me that since we last met he had been on a course in Falmouth and obtained his RYA Coastal Skipper's certificate. When he retires (alas, I imagine that to be a very long way off) he would like to do what we are doing and it was very gratifying to learn that he had even received a little inspiration from the few tales I had told. Altogether a thoroughly sound man.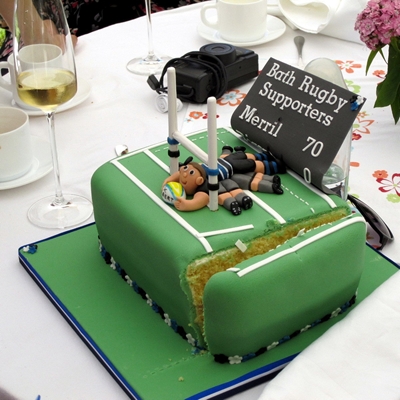 We were lucky to be in England at the right time to celebrate a special birthday of our special friend Merril along with her family.
It was a lovely day and you can see that her cake superbly represents her keen support of Bath Rugby Club.
We returned here to find the marina almost deserted. There are gaps along the pontoons and from the boats that are here many of the crews are missing. Some have gone off on a "visa run"; every 90 days foreigners must leave Malaysia for 72 hours. Most make a short visit to Thailand. Other friends have gone down to Singapore by road to get the batteries in their EPIRBs renewed. You are not allowed to fly with an EPIRB. A party of six is on the tourist trail in Vietnam. Still others are having work done in Phuket. So it is very quiet and we are looking forward to a bit more life next week. One notable absentee is the Nepalese waiter from the Hard Dock cafe. He was not a very good waiter, in fact there are grounds for thinking that he would come very low on a list of the best waiters in SE Asia. But his deficiencies were those of technique not character. He is a tall young man with a very ready smile who is embarrassingly keen to please. He has a goodish command of English, learnt in school, and an eager, soulful _expression_ that melted the hearts of all the women and most of us men. But, detrimental to his calling he has a rather bad memory, an aversion to writing orders down and little grasp of the rudiments of his trade. On one occasion having drunk a can of Tiger from a big beer glass I ordered a white wine. Our waiter leapt into action and brought over another beer. Sometimes I would let these things go but I really wanted that wine. Confused but eager as ever he dashed back to the cool cabinet, brought over the wine bottle and to my astonishment and despite remonstrations filled the beer mug with chilled white Chilean. We loved him but feared for him. On our return we missed him for a couple of nights and eventually I made enquiries of his senior colleague. I was told that he had resigned. I did not like to delve deeper but I rather fear it might have something to do with not being among the best waiters in SE Asia. We really do miss him and wish him well.
We are now taking delivery of charts, pilot books and all available information on the next big legs of our journey. It is 1300 nautical miles as the albatross flies* from Langkawi to Cocos Keeling and we have to cross the equator and the Intertropical Convergence Zone or ITCZ, a large area of light and variable winds. Questions for consideration include whether there are places on the west coast of Sumatra where it would be possible to refuel without administrative and bureaucratic entanglements and whether there are sensible ways to carry unusually large reserves of diesel on deck. An additional factor we read about is a severe shortage of all fuels in Sumatra at present. There should be less of a problem on the 2300 M leg from Cocos Keeling to Mauritius because the predicted trade winds are brisk and generally in the right direction. Our present intention is to set sail from here around the middle of August – about four weeks to prepare. Gulp!
It is very hot and steamy. Nevertheless I have reinstated my morning walks (the good living and lavish meals in Europe have had consequences) and Mags has played a game of squash on a very nice court, newly discovered. We are hoping to get down rapidly to our fighting weights ready for the big ocean.
* Assuming this albatross flies west round the northern tip of Sumatra before heading south to Cocos.
---