Opua, New Zealand

JJMoon Diary
Barry and Margaret Wilmshurst
Fri 7 Dec 2007 23:21
As expected we are very comfortable here – the natives are friendly and drive on the left, the countryside reminds us of Devon and there are distant hints of Swiss mountains.
Our oldest friends Merril and Roger joined us for a couple of weeks as part of their round-the-world trip by air. We took a few days to cruise in the Bay of Islands with them. We have been sailing together regularly now for getting on for fifty years and it was remarkable and really rather wonderful that they were able to join us at the furthest point of our most ambitious project. We had a most enjoyable cruise within the bay then we all got in the car and travelled down to the South Island for a good look round our temporary home.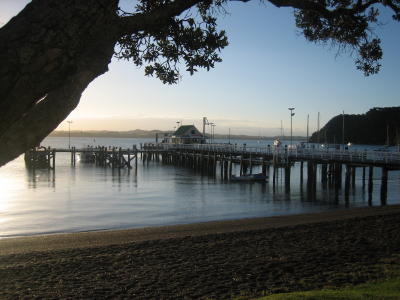 1. The Bay of Islands
2. Russell pier in the Bay of Islands as the sun sets on Barry's birthday.
Like most yachties visiting New Zealand we have bought an old car. Buying a car here is remarkably easy; you just hand over a bundle of cash and drive away. We bought from a dealer but many vehicles are sold from the side of the road. Every vendor is obliged to provide a six months WOF (Warranty of Fitness) and the purchaser must register the deal at a post office within seven days. The formalities take about as long and cost as much as buying a book of first class stamps in the UK. Our path towards car ownership was smoothed by Rick, the mechanic doing a bit of work on our engine. On his way home one night he called in at a second-hand car lot, identified a bargain and presented us next day with the details and a phone number. What service! The general idea is that we shall sell in six months in the hope that it has not suffered much further depreciation. However, it suffered considerable depreciation a few days after purchase when while proceeding slowly up the main shopping street in Auckland, a lady in a very smart BMW SUV left a parking bay and executed a sharp U turn immediately across our bows. I dropped the anchors smartly but still caught her amidships. Being a typically friendly New Zealander she leapt out of her car full of apologies, expressing profound contrition and within a couple of hours I had received a text message from her insurers asking me to get in touch. The car is to be repaired at their expense on Monday.
We had another spot of good fortune. We felt that with an old car on a trip through the wilds we should join the AA. Of course we failed to get round to it as soon as we should and it was not until we found ourselves in the deep south but with a good wi-fi connection one evening that we managed to do the business on line. Within twelve hours I had locked us out with the only key in the ignition. No problem; we rang the AA who sent the local garage round within the hour.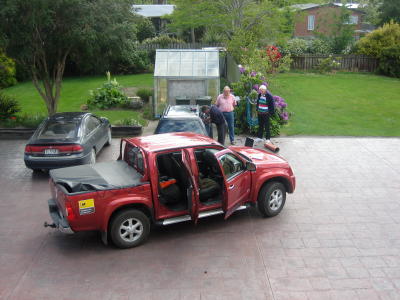 We now have three weeks to get some of the forty-eight items still on our maintenance list under way and agonize over the nine projects on the wish list. The time will fly by. But this is not such stuff as interesting blogs are made on and it's time to give our long-suffering readers some respite. The fat lady is singing at the end of Act 1. We expect to be back with some more nautical yarns at the end of April or beginning of May. Until then – Ka Kite Ano!
Kawakawa is famous for its public toilets designed by the architect Frederick Hundertwasser.
Waihi Beach in the Bay of Plenty.
1. Hot geysers at Te Whakarewarewatanga o te Ope Taua a Wahiao, near Rotorua
2. Parliament House in Wellington with the "Beehive" extension by Sir Basil Spence.
A place to bungy jump. No, we didn't attempt it ourselves!
1. Lake Tekapo
2. The Otago peninsula
BIRDS :
1. A Kea which is supposed to be the most intelligent of birds, as smart as a dolphin. He takes pleasure in removing parts from your car!
2. Spotted Shags on their nests with young.
3. Look very carefully; it is a Yellow-eyed Penguin, very rare and very shy. This one is just crossing the beach to go shopping for fish for its young.
1. Milford Sound. Dull weather but a fiord teeming with wild life.
2. Fur seals relaxing in Milford Sound.
1. Seemingly "landscaped" countryside, North Island.
2. Highland cattle at a very good B&B near Levin, North Island.
Mount Ngauruhoe, snow capped volcano. Some of this desert-like area was used in the Lord of the Rings films.
---