To Batam

JJMoon Diary
Barry and Margaret Wilmshurst
Tue 20 Oct 2009 12:41
160 miles out of Kumai I turned on the engine and realized we had a problem; the motor ran sweetly but would not turn the prop. After a bit of investigation it was clear we had a malfunctioning gearbox and I radioed our mates to let them know. The breeze was holding up but Troubadour and Tapestry insisted on standing by in case we needed help. 120 miles on and a day later there was an almighty thunderstorm with 30 knot winds followed by calm and a sloppy sea. Wallowing around in those conditions was no fun for anybody and the crew of Troubadour made it clear that they would rather take us in tow than hang about waiting for more wind that was unlikely to materialize. Extremely grateful for the offer we jumped to prepare our heaving line and warps. Having been at the other end of the tow line when assisting Timella in the Pacific in 2007 we had a good idea what to expect but had to refine the details. All went well. We threw a light line across, which was hauled on board Troubadour followed by our 50 metre warp. It was fairly quickly secured and Troubadour took up the strain, which she maintained for the next 353 miles - a sterling effort that went without a hitch.
Line attached, Barry gives the thumbs up
Not only did Troubadour save us but they also gave a cattle egret a lift for three days. Probably a squall had sent it off course. Troubadour provided the haven and transport needed for it to recover and get safely back to land. This picture shows Stuart checking up on the bird which is sitting on the stern rail.
We cruised at a little over five knots except in the thunderstorms when we were reduced to two or three knots. Nearing the southern end of the rather narrow and busy Selat Riau (the strait between Batam and Bitang) we slowed down so as to arrive in daylight. Troubadour turned off her engine and towed us at two knots under genoa. Tapestry kept within range until it was clear that Troubadour had sufficient fuel to complete the job then went ahead to prepare Nongsa Point marina to receive a handicapped visitor. We called the marina on the radio when a mile out and there was plenty of help on the pontoon to catch our mooring warps. I think we all agreed that it was an interesting and positive experience all round. We were reminded of the wisdom of sailing in company or at least keeping in touch during long passages. I think we were all a little surprised at how straight-forward even so long a tow turned out to be. Of course, conditions were very light; had the wind piped up we should have had to drop the tow and resume sailing but from our point of view on JJ Moon the experience was quite restful. Stuart and Annabelle on Troubadour are very experienced sailors and we never had the slightest qualm about them taking a wrong option and I think it was useful to them on occasion to have a second radar, another pair of eyes on watch and our AIS transponder helping big ships to spot us early. As ever it was the fishing boats, and their nets, which caused most concern.
Two happy photos. To slow down Troubadour actually sailed with us in tow for a few hours. It was very peaceful. The second shows the safe arrival in Nongsa Point marina.
After tying up we soon got together to express relief, share some experiences and congratulate ourselves that things had gone pretty well. Mags and I were very grateful to the others for standing by and insisting on taking on what could have turned out to be an onerous task. We were so moved that we burst into song, not quite spontaneously because we took the precaution of inviting Annabelle to bring her clarinet over to give us a lead. This is what we sang: (I should explain that someone in the Rally fleet had dubbed our three boats sailing in company "The Three Musketeers". Publicly we pooh-poohed the title with disdain; in private we were just slightly chuffed).
For Troubadour,

15 October 2009

A little rescue song

To the tune of The Hippopotamus Song by Michael Flanders and Donald Swan

A fleet of three musketeers set out from Kumai

- Goodbye to the orang-utans -

But trouble for JJ Moon was just out of sight

When they motored the gears went a-clang

The crew of the Tapestry was ready to help

With all diesel they had in their cans

But Troubadour, bless 'em

To tow they did press 'em

To reach Nongsa Point on Batam

Tug, tug we'll give you a tug

No need to worry, don't get in a fug

Just heave us a line_

And all will be fine_

You'll get there on time

If we give___ you a tug.

It's time to say many thanks and we won't forget

From skipper and mate, JJ Moon

There's nothing that can be done to repay our debt

But to sing out our thanks to this tune.

Through thunder and lightning, strong winds and then calm

Brave Troubadour kept plugging on

To cross the Equator

Was quite an elator

Then safe home to port with this song

Tug, tug…..
Forgive us but we were a bit emotional!
Now we have been here at Nongsa Point for a few days. It is a well run marina and resort just across the Singapore Strait from the city and in view of the very impressive skyline. We have had a short visit from a local mechanic, made a lightning trip to Singapore by ferry to renew our Indonesian visas and are waiting for the engineer from the local Volvo Penta agents to call early in the week. We hope we shall not have to make too many adjustments to our plans.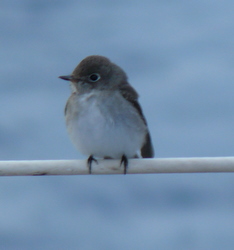 Troubadour had their egret and we were delighted to welcome this little chap nicknamed LBJ (Little Brown Job). However, after inspecting JJ Moon he took himself off to Troubadour for the night. We did get regular visits until he decided to try for home.
---