Another trip to Thailand

JJMoon Diary
Barry and Margaret Wilmshurst
Mon 16 Apr 2012 04:18
We have been up here in the Boat Lagoon marina for three weeks now; another week to go. And another blog about bits and pieces on the boat. We have had:
A small glass fibre repair to the toe of the rudder skeg necessitated by bouncing on the coral bommie last time out.

A rub down, two coats of anti-fouling and a polish to the topsides.

Bow-thruster motor reinstalled.

New cutlass bearing (where the prop-shaft passes through the hull).

New shaft seal (to stop the sea getting in round the shaft; too much has been doing so lately).

New prop-shaft (unexpected – a bit of a blow).

Check and overhaul of the feathering prop. All OK.

Anchor and chain re-galvanised. The shiny chain now has to be marked so that we can see how much is going down and coming up – a trying job.

A new head (loo) consequent upon a crack across the base and unfortunate leakages.

A new and improved bimini (worn through across the struts). This entailed new canvas and a little more work by our favourite stainless steelwork man, Mr Sung. We never fail to derive pleasure from giving him a bit of business.

Various items of less significance.
All in all it has gone well, including the lifting and splashing, which always raises the blood pressure a little, but without real cause.
The little repair to the rudder skeg (the substantial support to the leading edge) tempts me to bang on about one of the bees in my bonnet. Of course, as we get older these buzz with increasing velocity and volume and the temptation becomes greater. Currently there is more talk in the yachting press of keels falling off racing boats. Appalling. But I cannot understand how people can set off long-distance cruising with lightly built, totally unsupported spade rudders. We are all practically bound to hit the bottom at some time or other or to be slammed down on our beam ends by a big sea and it is truly alarming to see so many bent and damaged rudders.
A minor triumph was the overhaul of the ship's bike. One new tyre, two brake cables and a gear cable renewed. Beautifully smooth and responsive. We hadn't realised how cranky it had become.
We have been staying in a comfortable room, two floors up, with a very good view of the day to day business of the marina. This consists mainly of the transportation of hundreds of holidaymakers to and from the local, and not so local, beauty spots. They have to get across to Phi Phi Don in an hour or so and the bigger speedboats have three 225 hp Suzukis across the back. There is tremendous hustle and bustle below our balcony every morning with purposeful shepherding of very mixed bunches of lightly clad tourists determined to have a good time. Smoky exhausts and revving engines. Five minutes after lift-off the boats emerge from the narrow channel through the mangroves (maximum permitted speed 5 knots) like a swarm of bats out of Hell and roar away towards the beauty spots. Well, they are beautiful spots between four o'clock in the afternoon and ten the next morning. They gave us quite a scare as we made our way in three weeks ago, even though we had a pilot on board. Two boats together round a blind corner at 25 knots. Probably they had seen our mast but one cannot help forecasting a terrible accident some time. Once they get into the wide open spaces they lift their noses and start to really motor. Between four and five each afternoon they all swarm back. Some holidaymakers clap as the captain nudges stern first into his berth, others look a bit frazzled - windswept and sunburned. Fleets of mini-buses return them to their hotels. Despite the apparent naffness of the operation it is really rather impressive. There are four young men on each of the larger boats, two or three on the smaller. Under way there is always one man stationed right aft, usually standing on the rear platform holding a vertical support like an old-fashioned bus conductor, presumably to catch small tourists as they fly off the back. Most of the boats seem to be in use every day and on return they have to be cleaned, washed down and re-fuelled. Snorkelling gear and life jackets must be checked and washed and in the morning the boats have to be restocked with water and soft drinks. Engines need routine servicing and repair. It seems the lads work pretty hard and someone has got some good business going.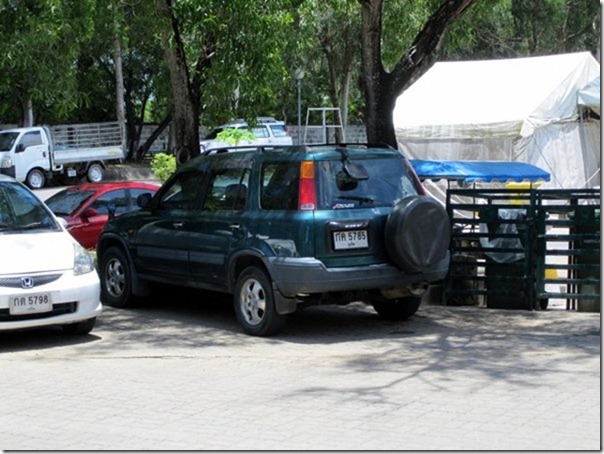 1. Power boats awaiting the day's tourist group 2. Our hire car – a real luxury!
Each time we return we get a bit more out of the experience. The local tradesmen see us coming and smile (humph!), our yachtie friends welcome us back and we manage to widen our metaphorical horizons. This time we have been introduced to new friends who recently carried out a major refit over a period of 13 months. They rented a house on a nearby estate and are a mine of information about local restaurants and shops previously unknown to us. We have been invited to join a three-crew syndicate to share a car.
£
80 a month for transport more or less whenever we want it – particularly valuable for a hour or two in the evening. Then there are the ready smiles from the girls in the office and other employees. In particular perhaps, the sweeping lady. Labour is very cheap in Thailand and there are numerous cleaners, gardeners and sweepers. This lady rules the roost over the area of hard standing and is always on duty, always sweeping, with a constant smile, looking for opportunities to be helpful. When an owner emerges or a foot appears at the top of a ladder the sweeping lady appears from nowhere and comes alongside, always sweeping, always smiling and always with a cheery greeting.
"Sà waatdii khà".....
If there is nothing doing after a bit of smiling and nodding all round she sweeps away to another sign of owner activity. Yesterday she carried a heavy bag of shopping from our bike down the ramp and on to the pontoon and returned with 20 bhats and a cracked loo. It was not clear which pleased her most.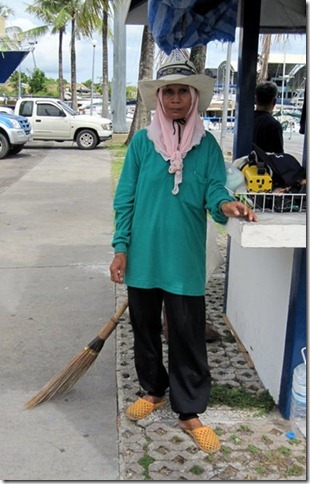 "Mme Sawadikaa....."
And then there was the earthquake and tsunami warning. We were in our room when the building started to shake. At first we blamed the stand-by generator below – there had been a power cut. I commented that I didn't like the feel of it. Then our neighbour came up to say that there had been an 8.6 scale earthquake below the sea bed off the coast of Sumatra, as in 2004, and that there were tsunami warnings on television. Later there was another shock; 8.3. and I tried to ring Mags, who was on the boat, to tell her to watch out for the marina emptying of water and in that case to get up to our room pronto. No good. Her phone rang in the room. However, nothing happened. Apparently it was the "wrong kind of earthquake". We learned later that in 2004 there was just a metre of water over the hard stand but no injuries or damage to boats. Any big waves have to sweep over the shallow muddy sea, through the mangroves and then the narrow entrance to the marina. There was devastation close by but no serious trouble in the Boat Lagoon. That evening we had difficulty finding a place in a restaurant and had to sit outside overhearing numerous mobile phone conversations from which we gathered beach-side hotels had been evacuated, the airport was closed for the day and there were jams on main roads; social engagements could not me met. On sober reflection the consensus seemed to be that the warnings had been effective, people had behaved sensibly and it had been good practice for "the real thing".
Incidentally, those at Rebak had a more worrying time. That marina was completely destroyed in 2004 and this time hard news was difficult to come by. Rumour spread, was regurgitated and developed. Then a seven metre wave was forecast and 40% of the occupied boats beat it to the open sea. Most anchored in 14 metres and returned to their berth the following morning. In the event, unnecessary but no doubt we should have done the same. Better safe than sorry.
We head back towards Rebak on Thursday 20th.
---