Ambon - Photos

JJMoon Diary
Barry and Margaret Wilmshurst
Sat 5 Sep 2009 10:21
Ambon - Photo Album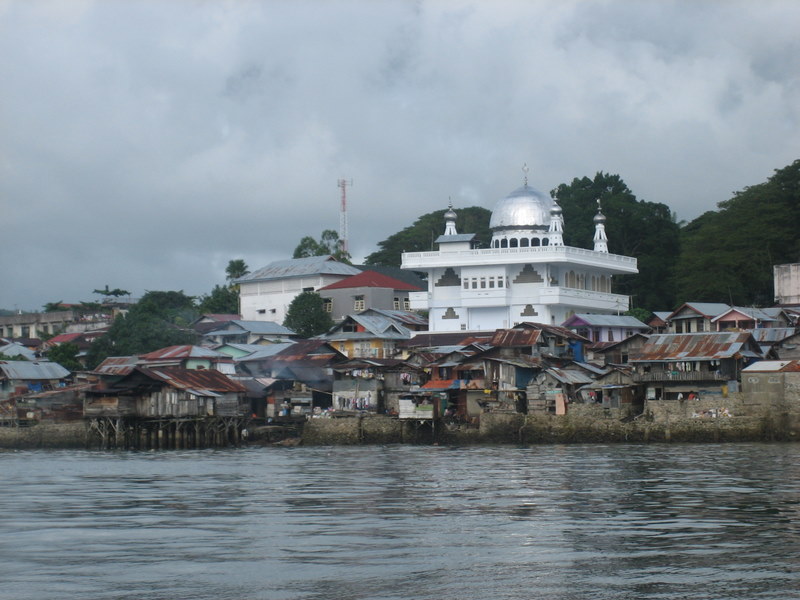 What a mixture! Ambon as seen from our later anchorage.
Our guide, who organised our washing, took us to his sister's house which was in a Christian neighborhood. This was the view of the town and estuary from their house. Their house had a spacious living room with very few chairs, a large television, and what must have been bedrooms leading off. Quite well constructed and not uncomfortable.
Gala evening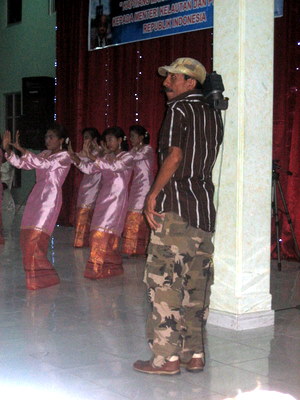 Pictures from the gala evening. Our compere was wonderfully robed almost better than the pope. The dancers were beautifully attired whereas the cameraman was interestingly attired. (I'm sure I know him from somewhere.) And the final picture was of the minister who was honored this evening. He was required, as part of the ceremony to dress in the costume you see (over his other clothes) and to spend the very hot evening thus attired. It didn't curb his style though. He gave a speech, joined in the dancing and even sang. A real allrounder.
Taking a tour
A natural warm spa. We ladies had brought our swimming costumes along but foresook the privilege of bathing when we found the ladies fully dressed. The water though was decidedly hot and if you ventured to the far end as shown in the picture it was hotter than most would want their baths.
The village we visited, shown above, was a Christian village devastated by the riots some years ago. Now rebuilt there are sentries as you enter and leave since on either side are muslim villages. There is no violence nowadays though. Looking up stream the communal water facility started in an attractive fish pond, led into their bathing and teeth washing area, on to the laundry section where the villagers stood with the tame eels swimming around their legs and then on to .. you guessed.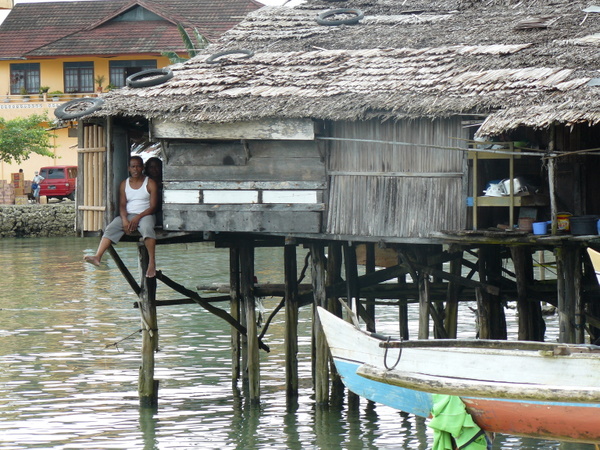 Just stopping along the road to look at the various boats and fishing craft and to see how some live right over the water.
The last stop on our tour was the market. With the help of our guide Lesley from the port office we bought some interesting fruit and vegetables. The second photo is just to show the becaks that we took. You can certainly see that Barry and I would never fit into one but should Barry have really have been charged double?
Just a nice photo of a cheerful fellow at the market.
---