Life in Rebak marina

JJMoon Diary
Barry and Margaret Wilmshurst
Thu 24 Mar 2011 09:38
We are comfortably installed in Rebak marina where the day starts with Pilates for Mags and a brisk walk for Barry, then Internet, emails, read the Times, boat jobs, lunch, a brief snooze, a trip to the pool and supper. Or perhaps it is a shopping day which means taking the ferry over to Langkawi, hiring a car from Mr Din and finding a wonderful variety of small shops and suppliers up back streets. You can get almost everything if you know where to go.
Behind the marble dance area where we do our Pilates is some water with this palm growing. A small olive-backed sunbird has made his nest there and after our Pilates we see him stationary in the nest, probably stunned by the sight of us yachties in extreme positions (or trying for extreme positions!).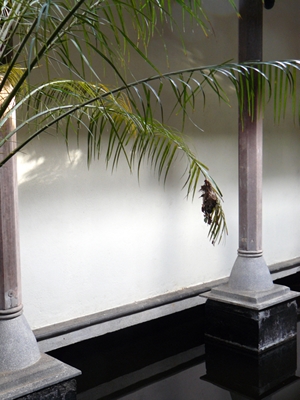 An olive-backed sunbird.
Friday is "veggie run" day. Mr Ho, an enterprising man, arrives at the ferry stop to meet the 0845. We assist him to lay out his boxes of vegetables, frozen meat and fish, Greek yoghurt and some other items he has found that yachties crave. We make our rounds, buy our goodies and take the next ferry home. Besides getting wonderful produce - the avocados are always just right - it is a good time to get to know each other better whilst waiting for the ferry.
The "veggie run" - vegetables supplied by Mr Ho.
The Rebak ferry coming home
For anyone with even the smallest bit of "twitcher" in them Rebak and the rest of Malaysia offer much of interest. On our circumnavigation of Langkawi we always had flying around us Brahminy Kites and Sea Eagles. Back in Rebak the bird that keeps us all entertained is the Oriental Pied Hornbill. There are several couples on the island and recently some young were reported.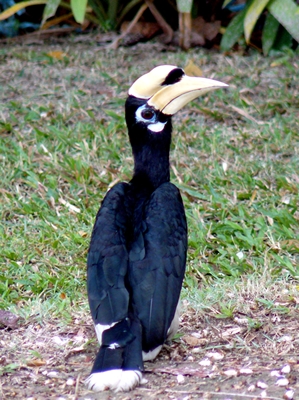 Oriental Pied Hornbills
---