False start

JJMoon Diary
Barry and Margaret Wilmshurst
Wed 17 Nov 2010 05:46
We made a small but determined foray towards Thailand the other day but crept back with tails between our legs. A few hours out alarms went off and we shut down the engine in a hurry. The prime cause was a faulty water pump but one d----- thing had been leading to another while we had been in the UK and nothing was simple out there in the hot, wide, rolling sea. After wallowing about in the swell for several hours wrestling with pumps, pipes and alternators we sailed back to the seaward end of the marina entrance channel and anchored for some quieter wrestling. Eventually we launched the dinghy and nipped in to find a friend and borrow a tool. After much discussion over the damaged pump we decided to lash the dinghy alongside JJ Moon and tow her back into her old berth. Good move. We were now safe, stable and connected to shore power. A new pump is on its way from England and our departure has been put back for two weeks.
Friend Brian in the dinghy, Barry at the helm as we towed JJMoon back into Rebak marina.
The haul-out had gone well. There are few facilities here for comprehensive maintenance but some who serve us in the marina and the hotel are excellent. We have never come across a more competent travel-lift crew. Very precise in all movements of the hoist; quiet, with most communications by hand signals. We felt safe in their hands - which is a comfort, it is very, very un-nerving if there is the slightest fear of being dropped. We were out for a couple of days; more than enough time to wash off the bottom, clear all growth from the prop. and bow-thruster and check for problems below the water-line. The worst was the bow-thruster – completely immobilised by weed and barnacles. It was a good job we anticipated something of the sort and did not try to use it or test it.
Haul out photos. The team was competent, quiet and efficient despite small difficulties such as the paving surface being re-laid while the launch continued.
The hotel is quite smart and expensive but could not be more welcoming to those in the marina. On staggering along to the beautiful pool after a day's sweaty labour one is greeted by a smiling member of staff offering a clean towel and directions to the nearest free lounger. Drinks and snacks are available at the pool-side bar. On 31 October the hotel put on an elaborate party for 46 guests and 50 from the marina. Immense trouble was taken by the staff to decorate in macabre fashion, turn out in ghoulish costume and give everybody a good time.
Our pool!
It is not all sweetness and light in the community. We learn of a friend several of us got to know quite well a few years ago who has died at sea off the west coast of Africa, of malaria. Less dramatically there are a number of couples who are deciding to throw in the towel here, mainly for health related reasons. We have been to farewell suppers at the Hard Dock café which were quite poignant with everybody being very positive about the proposed new way of life but there is clearly some sadness in giving up the dream.
Anyway, the Chandlers are free! Three cheers! I commend Libby Purves's piece in The Times of 15 November.
One of our ferries from Langkawi to the marina on Rebak Island and the small waiting hut on Langkawi.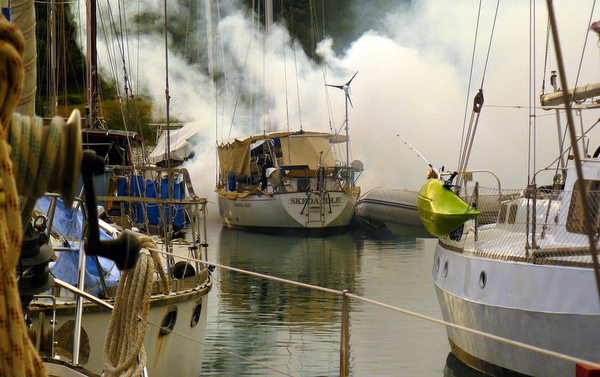 Wrapped in a cloud of smoke this photo is not quite what it seems. The hotel is simply fumigating our pontoons.
---