Small steps

JJMoon Diary
Barry and Margaret Wilmshurst
Mon 2 Jul 2012 13:18
Admiral marina is part of a smart social club just south of Port Dixon, 125 miles north of Singapore. The marina itself is well laid out and comfortable and the manager and staff are helpful but nevertheless I am a little disappointed. I had been led to believe that it was a bit special here but there is only one source of (rather expensive) food and drink, there are no shops on site and, so far, the pool has been exceedingly well used by noisy children. The nearest shopping is over a mile away. However, the laundry came back within 24 hours. Perhaps, all in all, not so bad then.
We came here by small steps in daylight to avoid the worst of the fishing boats, fishing buoys and rubbish in the water. When heading north in 2009 we sailed directly from Singapore to Rebak taking 72 hours and we had no trouble just outside the main shipping lanes. People said we were lucky. Twice, this time, we found ourselves in among fleets of 40 to 50 boats moving about in apparently random fashion engaged in various forms of fishing. The buoys were less numerous than expected but the quantity and type of rubbish floating in the water could only be described as disgusting. It is a shock and quite disturbing, particularly to the watch below, to hit a large semi-submerged log.
The economics of the fishing industry are difficult to understand. Many of the boats are large and heavily manned. Their capital cost in the Malaysian economy must be very significant. Some of the smaller boats travel at over 25 knots pushing up huge bow waves and using great quantities of fuel. With such numbers involved the catches cannot be large, indeed there is no obvious evidence of full nets, and the prices obtained at market cannot be very high. How can all those men be sustained?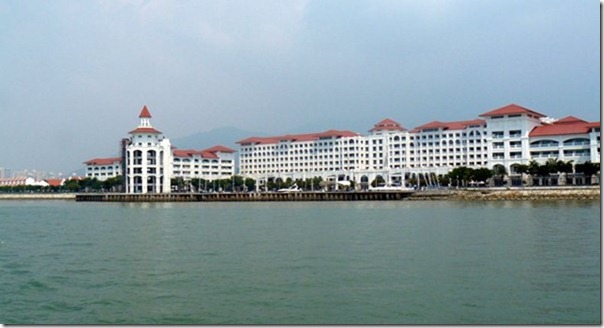 Straits Quay marina, Penang
We enjoyed our stay at Straits Quay and left in good spirits. The first night was spent off the island of Rimau immediately to the south of Penang Island so that we could get away to a good start the following morning. The second anchorage was an attractive and well protected bay at the south end of Pangkor. On the third day we covered 75 miles and anchored under the lighthouse marking the Angsa Bank to the north-west of Port Klang, Malaysia's largest port and only 20 miles from Kuala Lumpur. The pilot book advises that this anchorage should only be used in settled weather but it was and we had a comfortable night. The following day we sailed only 16 miles and fetched up in a peaceful spot close to the wooded shore of one of the channels between the low-lying islands west of Port Klang. We arrived here on June 30 in the middle of the afternoon well cooled by a fierce rain shower. It was interesting coming past Port Klang with a great tonnage of shipping both anchored and on the move. It gave a taste of what it will be like around Singapore. The AIS was an invaluable tool.
Up the creek west of Port Klang
We plan to be here for a little less than a fortnight. We have booked a hotel room in Malacca for three nights from Wednesday. We shall go by taxi. It is said to be an interesting town.
---