Arrival, New Zealand

JJMoon Diary
Barry and Margaret Wilmshurst
Sat 3 Nov 2007 23:25
We made it, safe and sound. Seventeen months after leaving our base in Turkey and just over a year from our preparatory fit-out in Spain, we have arrived at our home for the next six months at Opua marina in the Bay of Islands towards the northern tip of North Island. We were recommended to this marina by a very experienced cruising couple who spent two seasons here. We have high hopes. Our first impressions indicate that we shall be very contented here.
We were sorry to have to tear ourselves away from Suva although the siren calls from our civilised new home became ever more pressing as the days went by. We might sail straight back to Fiji at the start of the next season.
Bob McDavitt's forecasts worked out pretty well – only too well. The timing was a little out, the barometric pressures were sometimes different but overall we got more or less what he said we would get. It was pretty miserable for a few days, our roller-furling equivalent of three reefs in the main and a pocket handkerchief of a fores'l, but never felt dangerous. We came to rely on what he said was due and I think we got value for money. We shall certainly consider using his services again when we sail away from New Zealand.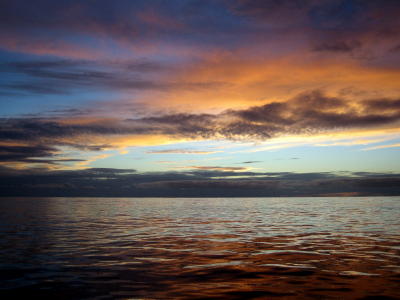 Mags and I are unreserved fans of e-mail and modern telecommunications. We think that together they constitute a GOOD THING. Sometimes but not always in response to these blogs we have received some marvellous letters and fine examples of others' writing, delivered seconds after despatch and affording us a great deal of pleasure. It is nonsense to suggest that the computer has killed letter writing; it has encouraged it and speeded up delivery. An example of the benefits of IT arose from a sad event, the death of a good friend and erstwhile business partner. Daughter Sarah is kind enough to receive and open all our redirected mail. On return from a half-term break she found a letter inviting me to the funeral that very day. She e-mailed me and within an hour I was able to call my friend's son from the middle of the ocean ("Oh. Wow! Yes, I can hear the water rushing past") immediately after the funeral get-together. I was very glad to be able to do this and I think he was pleased I called. Nevertheless I was sad. My friend was the kindest and most generous of men, almost to a fault, and was a very good friend to me for twenty-five years. We went through some exciting and worrying times together. In addition to the "trouble at mill" (he was a Yorkshireman) he had not had a very easy life. He lost his wife during the time we were in the office together and then, on retirement, having always sought the best professional advice, he suffered grievously, like so many friends, from the Equitable Life pensions débâcle. I reflected on how hard it was that such a clever, good and generous man should have had to struggle so. It made me pensive.
Friends closer to hand are Ross and Sue from Y-Not. Regular readers will have noticed their ever-presence even when it was not referred to directly. I first met them in Kemer, Turkey in 2004 and our paths crossed from time to time in the Mediterranean. We were very pleased to share, with others, a Christmas meal in Las Palmas on Gran Canaria and we crossed the Atlantic in loose radio contact. Since Panama, initially by chance later by design, they have been our constant cruising companions and we have benefited enormously from their friendship; as fine a couple of full-on Aussies as you could ever hope to meet. We cleared in here together but they are laying up for the cyclone season a little further south. We might come across them again next year, or we might not. Either way we shall try to keep in touch and we wish them all the very best for the last stage of their nine year circumnavigation.
We may be facing a bit of a language problem. Before arriving in New Zealand sailors must notify the Customs Service at least forty-eight hours in advance with details of the boat and its crew. This can be done by High Frequency radio or by faxing or e-mailing a form. We e-mailed ours from Suva and received a formal acknowledgement from head office in Auckland beginning: "Good Day". We chuckled. We had thought this was just a matey form of address. The marina likes to be kept informed of arrival times. On leaving Suva I let them know we were at sea and were due in Opua on 2nd. The reply was quick. "Yahoo – great. Look forward to meeting you." Perhaps it is a Maori welcome? Six days later I sent a short e-mail stating: "Slight delay. Inclement weather. ETA now .........". The reply came back: "Good one see you then". What did she mean? That she had caught me out in a "porky"? That she appreciated my use of the word "inclement"? That I should "pull the other one"? We probably need a phrase book. Ross and Sue would not be much help. Mention a New Zealander to any Aussie and you get a grin followed by one of their fund of ten thousand and one sheep jokes.
---