Lombok

JJMoon Diary
Barry and Margaret Wilmshurst
Tue 20 Oct 2009 03:14
We were last heard from on Gili Lawa, north of Komodo, snorkelling and looking for manta rays. We sailed across the north of Sumbawa to a secluded anchorage on the small island of Medang. We were the only yacht there on our first night and could have felt lonely but we discovered that unbeknown to the authors of the book on Indonesian anchorages there was a thriving village just behind the trees. Several other Rally boats found their way in for our second night.
En route to Lombok. On a beautiful evening we passed this "classic" volcano north of Sumbawa.
Then we sailed for Medana Beach marina on the north-west shore of Lombok, within sight of the Gilies, three islands highly recommended in Lonely Planet. Medana Beach is not yet a marina but the owners have great plans. At the time of our visit there were 15 or 20 moorings laid in an attractive anchorage, well protected from wind and swell. A nice clean toilet block, small well stocked shop, and a large open sided shed with tables and chairs (and with plenty of cold local beer for sale) showed that the developer/owners understood their target market. We had intended to stay for a few days, collect our passports with visa extensions and move on but we enjoyed the place and felt secure on the mooring buoys so changed our minds, stayed for the official Rally festivities and then flew over to Bali for four days of sightseeing.
Looking out at the boats in Medana Bay marina, Lombok
Pony and cart was the local taxi service. If you took one to market you could ask the lad to come round with you, pile in your purchases just as you would a supermarket trolley but then hop in for the return journey. Both novel and practical. We took this pony and cart and rather like a sailing dinghy we were asked to adjust our seating position at intervals to assist the pony and lift the cross bar off its neck.
First we took a day's trip round part of Lombok, passing through the "monkey forest" before driving on to a village that specialized in weaving (interesting) and a place where they made pottery (we have seen better). We ended the day at the supermarket in Mataram, the island's capital, where we made a determined effort to re-provision.
A meeting of minds!
Just monkey business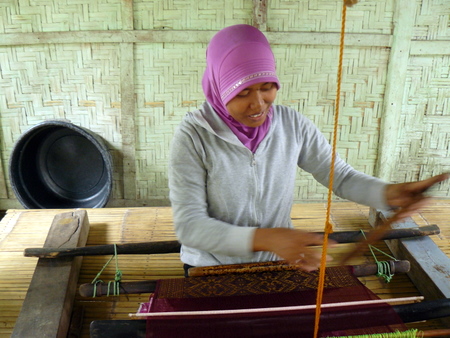 Weaving in one of the villages
A couple of days later we took the local ferry to Gili Air and stayed the night in a comfortable hotel. The ferries are primitive craft driven by a large outboard motor and are boarded over the stern, passengers having to take two or three steps through the surf. On our return one of our number missed their footing in the deeper than expected water and took a tumble. Understandably, they were not amused and indeed, from my vantage point as next man off the incident did not look too good. Brave faces were put on and indomitable spirits glimpsed but the incident did highlight the under-developed nature of Indonesia's tourist infrastructure. To have to ask visitors to a holiday resort to wade through the surf carrying wheeled luggage sporting airline labels and squeeze past a dirty outboard engine must reduce the appeal of the place. Nevertheless, we had an enjoyable couple of days although we were underwhelmed by the reputed beauty of the island.
Having returned to our boats the Rally festivities were appropriate and well executed. The speeches were not too long the entertainment was....well, entertaining and there was plentiful good food and free beer. We felt the organisers had hit the right notes.
Festivities, full of colour.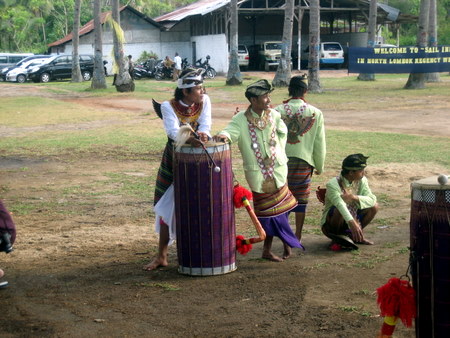 Relaxing before the performance. Nice lads.
The dance
The interpreter taking notes during the mayor's speech
A couple of days later we flew off to Bali - quite a contrast. We had reserved rooms for three nights in a nice hotel outside Ubud, the cultural centre of Bali but the best thing we did was to hire a car and engage Pak to drive us and guide us for the entire four days of our visit. The story of our visit is told in the pictures in the Bali blog.
On getting back to Medana Beach we found things were a bit quiet - most boats had left. We did some provisioning, consulted our charts and prepared to sail for Borneo. As ever when we have been more than a few days in a place, it was very difficult to drag ourselves away.
We were grateful to, and also very impressed by Ace Robin who is the guiding light of the marina. Along with her sister and both their husbands and two others they are creating a truly impressive yachting facility which they hope will also help the adjacent village. On arrival at the dinghy pontoon we were more often than not greeted by the kids: "Hello Mister". Later the touts were there as well hoping that the Rally boats would be a lucrative group. Unfortunately for them we probably weren't as forthcoming as they might have hoped. We had already been to so many places, been pressed to buy so much tourist merchandise, bought such a lot of things we really didn't want, that we balked at these further importunings. We wanted to contribute to the community and of course we are all on different budgets but very few of us are rich, only wealthy by comparison. Nevertheless, we did succumb. Mags bought several sarongs and a bowl or two. Having given we were surprised and touched to be then given back small presents, bookmarks with our names on and a woven bracelet as a farewell present. Two of the lads, Soo and Ram became our particular friends and we were sad to leave them knowing it would be unlikely we should see them again.
Ace Robin is a leading light of the marina project and along with her husband (a Devonian), her sister and her sister's husband they have brought the facility to a good standard. We wish them all the best in this venture and hope one day to revisit.
Particular friends Soo and Ram. We were sorry to say goodbye.
One activity which we yachties appreciated and to which we were more than willing to donate was a coral planting regeneration project. We bought a concrete slab on which was painted the boat name (or for some people the names of family members) and then coral cuttings were attached and the whole placed in a buoyed area in the bay but away from boating activities to hopefully grow and thrive, a lure for us to come back in a few year's time to see how our coral is doing.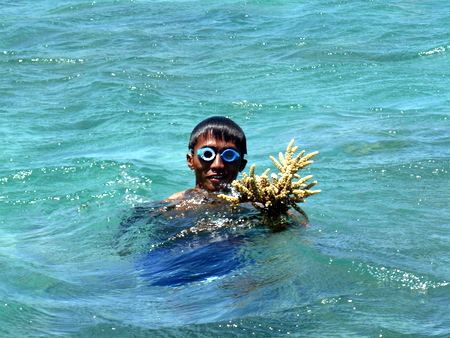 Our coral being planted.
It was to be a passage of about 400 miles to Kumai in Kalimantan province but the weather forecast was good and we set off in good heart.
---