Blood, toil, tears and sweat

JJMoon Diary
Barry and Margaret Wilmshurst
Sun 18 Dec 2011 14:43
No blood, nor tears for that matter, but there might have been and there has been plenty of toil and sweat.
Mags went back to France to sort out the Ferney-Voltaire house between tenancies. There was no serious damage or major repair work to be done but after five years of occupation by a family with young children there was much cleaning and polishing, buffing and sweeping and numerous small jobs each requiring the attention of a skilled artisan, as well as admin. in connection with the change of tenants. The work was hard and the organisation demanding and after seven weeks the mate was mighty glad to get back to the boat for a rest. I followed her to Europe later and spent three very enjoyable weeks with relatives and friends before joining Mags in France. Quite early in the piece we had a long weekend together to participate in a family gathering near Bath and towards the end we were able to spend some time with the new tenants, which was enjoyable and very encouraging.
Having got back to Rebak we had a few days to readjust and prepare JJ Moon and ourselves for the trip to Phuket, mainly to have a couple of solar panels fitted. We expect to spend many days at anchor in the next 18 months and we want to reduce the running time of the generator and main engine. I have been a bit of a sceptic about solar panels up to now, believing that you don't get much bang for your buck but most of our friends out here swear by them and I have changed my tune.
The days were not very relaxing, for one thing Mags' computer went on the blink, although we found a very competent Mr Fang who diagnosed the trouble (dying hard drive) and got it going again temporarily. We left our mooring on Saturday December 3 rather later in the day than intended because when we rang the harbour master at Telaga, an hour north up the coast to check whether he was there for checking out purposes we found he wasn't. So we had to dash ashore and take a taxi into Kuah town to check out at the main ferry jetty. Time consuming and a nuisance. On the previous occasion I had spoken to an immigration officer he advised me always to do the business at Telaga but I guess he had no knowledge or control over the movements of the harbour master. We motored to the nearest sheltered anchorage, about 25 miles away and enjoyed a peaceful night.
The next day we set off a bit later than we should as I made a mistake in calculating the miles to go. I mis-read a figure. This meant that we were hard pressed to arrive in the next anchorage before dark. We knew the bay we were heading for but although there are buoys to pick up it has surprisingly shallow patches and some bommies (coral peaks) one of which we had hit on a previous occasion so it is not our favourite spot. We arrived just after dark having been slowed down by a small weather system. The wind was on the nose and as we ploughed into it the speed reached 30 knots apparent and the sea was breaking over the bow for a few hours. Mags went forward to get the anchor ready should we need it and lines out in case we could find a buoy only to discover the large chain locker was full of water. The fenders were jammed to the underside of the deck. Looking back we realised we had been riding a bit bow down. Mags had to wrench the fenders out to be able to get hold of some warps. We wandered around the anchorage in the dark looking for a spare buoy. Our new high powered torch picked up a luminous stripe and we tied up thankfully. It was the only spare buoy. We set about bailing out which necessitated removing all the fenders, warps and other gear as well as lugging 100 metres of ten millimetre chain up on deck. Then we started to check things out. What had happened? We had to bail for ages. Calculating the volume of a bow shaped bit of boat would be time consuming but there must have been upwards of a ton of water in that locker. When it was dry we found the drainage hole was blocked – the whole front section of deck drains through a channel round the hatch cover and through pipes discharging over the chain. The following morning we cleared the obstruction and now believe it was probably caused by a build-up of sawdust from the sanding of the decks.
Later we found that the pressure had forced water into the first two sections within the accommodation so the anchor windlass motor and control gear had been drowned together with the bow thruster motor, my woodworking hand tools and numerous spare parts. Later still we discovered water in just about every part of the boat.

When we arrived at our next anchorage we laid out our kedge anchor with just five metres of chain and then rope. We set the anchor alarm and had a peaceful night but around 0900 the alarm went off and, sure enough, we were drifting gently out to sea. It took two attempts before we felt secure again. A pleasant relief to troubles occurred when we were hailed by our friends on Reflections as they came in to anchor. We couldn't get together then but they came to visit us at the marina the following day and we had a very convivial lunch.

On top of all that the generator has finally come to the end of its troubled, miserable life. Nothing to do with the water ingress but an additional problem that we could well do without.
Now we are coming to the end of a two-week stay at the Royal Phuket Marina adjacent to the Boat Lagoon where we have been before. The marina has its good points, notably the showers and toilets but all the boaty businesses are next door. They are quite willing to come round but one's finger is not quite so readily on the pulse. Nevertheless we have made progress. The solar panels have been connected and mounted on further beautiful steelwork by Mr Sung. Our anchor windlass is up and running. A replacement generator is on its way and we have made progress with the bow thruster. We now plan to sail on Monday for Christmas at Rebak and return here on January 9 to complete the work.
This is it. One of our two new solar panels, beautiful stainless steel work by Sung,
installation by Tick and Tok. (Honestly!)
We had a jolly interlude – a daughter of a cousin of mine, Rosie and her husband Kris spent a night on board as part of their three-month sabbatical tour of south-east Asia. When a meeting was first mooted in September, prompted by Rosie's grandfather, my uncle, it seemed a very long shot but we kept in touch, followed through and had a most enjoyable time.
There. Another blog largely about trouble and strife and malfunctioning gear. But its all part of the fun. Really!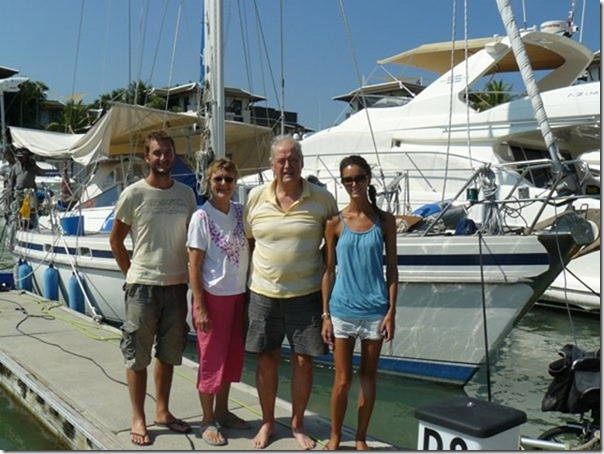 Kris, Mags, Barry and Rosie
Family reunited in Phuket
---