Antigua southwards

JJMoon Diary
Barry and Margaret Wilmshurst
Tue 27 Mar 2007 03:30
Finally we were saying farewell to Oscar the electrician.

It was Saturday morning, not normally a working day, but typically of Cap Green and his colleagues at The Signal Locker, they were doing their best to get us on our way at last.

Hands had been shaken, cold drinks were being drunk and expressions of satisfaction were being offered all round when I made the suggestion that it might be as well just to try the generator to assure ourselves that it worked OK with the new charger/inverter.

It didn't.

Back to the drawing board.

Oscar is good.

He identified an under-performing capacitor in the generator control box, searched unsuccessfully for a suitable replacement and returned with a small unit which he wired up in parallel with the faulty one and we were back in business.
The previous evening we had gone to the office to pay with various cards. Every one we tried caused some sort of a problem involving telephone conversations and authorisation codes. On one call I was asked my name: would I spell it? What was the name of my bank (it was my own bank's debit card that I was offering)? "NatWest." Would I spell that please? "WHAT?" We were all amused to begin with but it was well past knocking off time on a Friday evening, we knew that there were sufficient balances on each card offered and in the end we got hot, bothered, embarrassed and cross. At the following morning I was in the cockpit looking for a phantom knocking and enjoying a cooling breeze on a very hot night when my phone rang on the chart table. A nice lady from Morgan Stanley in Scotland asked if it was convenient to talk about a purchase made earlier in Antigua. "But you declined my card!" "Oh no Sir, we just wanted to make sure you that it was you making the purchase. That's fine, Sir. I am sorry to have troubled you".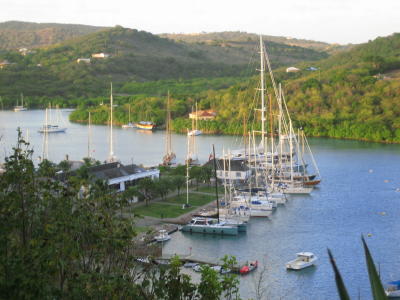 Nevertheless, we had a good time in Antigua. It is expensive but we really enjoyed our stay. There are so many huge yachts that the infrastructure has grown up to accommodate their needs. The small companies who provide service have a "can do" attitude and really try to help the customer rather than do the minimum necessary. There are some very nice eateries, some wonderful boats to look at and the dockyard environment is genuinely pleasing, without reservation. Not only that but we bumped into old friends, made some new ones and had some good, low key socializing.


Having dragged ourselves away we anchored in a bay at the northern end of
Dominica
. This was very different but the change was as good as a rest. The No.1 tourist thing in that part of the island is a trip up the
Indian River
. It is very small scale but nevertheless delightful - like a tiny tributary of the Amazon and full of interesting wild life. Some of Pirates of the
Caribbean
is said to have been filmed there and we thought it was well worth the visit.


For passages that cannot be accomplished in the hours of daylight we tend to sail overnight so that we arrive about
and have no trouble with berths, checking in and so forth. Antigua-Dominica and Dominica-St Lucia are both just under 100 miles and we had two rather busy and somewhat uncomfortable nights; all reefing, setting more sail, squally showers, soaking wettings and insufficient sleep. We were a bit zonked when we arrived each time but I hope it was all good experience.
So we are back in Rodney Bay and not sorry to be here. We have come to pick up post, which was waiting for us on arrival. Mags has already got her replacement a/c adapter (Dell, all is forgiven!) but I am waiting for a new lap-top battery from China. Who knows? My old one is completely dead so that whenever there is a momentary supply failure, perhaps when the generator is switched off, the computer dies and has to be re-booted. Professionals in Antigua said getting a new one was hopeless but I found one
on E-bay and "bought it now". We shall see.


We have decided to build a bit more redundancy into our navigation systems. The new radar is terrific. At quite moderate cost we can add a basic Furuno g.p.s. and some C-Map cartridges which will give us a full blown chart-plotter back-up to our computer based charting system. Our 14 year old g.p.s. has started to "hum" and I would not want to lose everything in mid-Pacific. I am sure we could find Tahiti OK (we also carry some small scale paper charts) but it would knock on the head ideas of visiting exotic islands. Of course it will take some time for parts to be delivered from Florida.........For some reason it seems that obtaining a replacement capacitor will be very difficult here – a disappointingly different attitude.
We shall probably be here for the rest of the week. Vision is going to give our bottom a wipe over, subject to agreement on price.
---