Bali - Photos (1)

JJMoon Diary
Barry and Margaret Wilmshurst
Tue 20 Oct 2009 11:19
Bali - Photo Album
We have visited some very remote and some wonderfully different places in Indonesia. What could Bali offer more? It is so touristy. Ah, but there's magic there and despite the tourism we succumbed immediately to its charms.
The Bali party comprised Stuart and Annabelle from Troubadour, Ian and Lesley from Tapestry and Barry and Mags from JJ Moon.
Firstly we felt like royalty as we had a car and driver for the 4 days we were there. Pak, our driver was excellent, quiet and efficient and very pleasant company.
First stop Kuta Beach to find out what it is all about. Nice but not for us for any length of time. However, we followed this with lunch at Poppies, a famous restaurant tucked away among the back streets at Kuta and it is a real garden paradise. We ordered reistafel, for some their first experience of the colonial Dutch delight and eyes shone when the many different dishes arrived. It was a good start to a wonderful mini-holiday.
Our hotel, Ubud
We had reservations at an hotel in Ubud having made a selection from Lonely Planet. Annabelle (Troubadour) had taken considerable trouble in choosing and then reserving and we were all delighted with the Sayang Terrace which was in old colonial style, a little way out of town, with a glorious view overlooking the valley and the Ayung River. It had a small but pleasant pool for a cool relaxing dip after sight-seeing as well as wifi, well, wifi some days!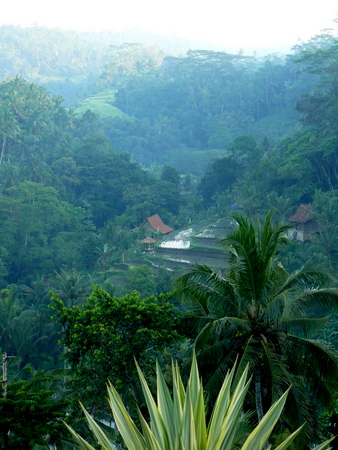 From the veranda at our hotel looking towards the pool and then across the valley.
Seeing the sights
Our four days were a mixture of culinary delights, temples, dances and trying to get that perfect picture of the rice paddies. We went to the theatre the first night to watch a Balinese dance. The dance we fell on was called Kecak and is accompanied by a choir (no orchestra) who "sing" a repetitive beat which is the base to which the dancers perform. Unusual and interesting but no photos worthy of the blog.
Temples
Pura Tirta Empul
An inscription dates the founding of a temple at the site to 926 AD. Ever since - for more than a thousand years - the Balinese have come to bathe in the sacred waters for healing and spiritual merit.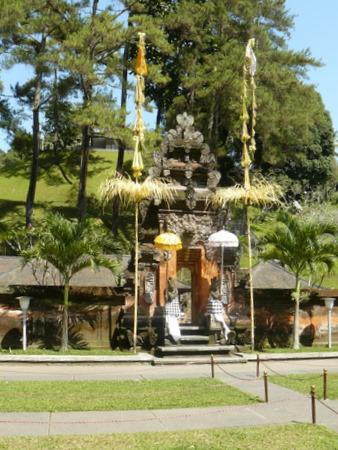 Entering the temple. The boys are ready to go.
Keeping up the structure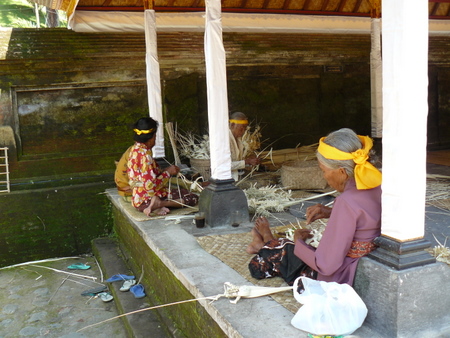 Scenes of activity in the temple
The temple is looking good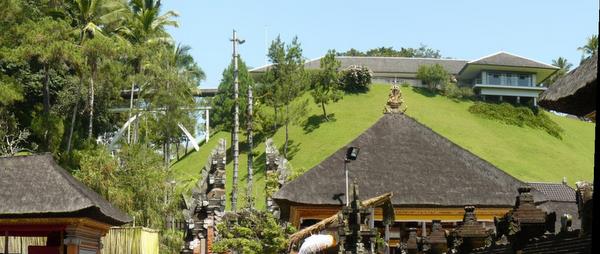 Overlooking the temple on a hill above is a surprisingly modern building: the Government Palace, built in 1954. Originally the site of a tea house for Dutch officials, it was later redeveloped as a palace for former President Soekarno during his frequent trips to Bali.
---