My Father

UHURU
Steve Powell
Thu 15 May 2014 23:01
36:13.40N
18:34.16E

Sometimes in this hectic life we lead it takes a complete change in pace for you to be able to focus on what's important, getting back on the boat and setting off on the high seas again has helped me focus and reflect over a very busy and emotional few months. Some of you will know, many of you will not, we lost a great man last February, my father. He had been ill for sometime and we were expecting it, but it still doesn't make it easier. I was fortunate enough to spend some very precious moments with him in the final days and feel confident that he pasted away with no regrets, something we can only aspire to.

Many of you came to the funeral and many of you sent wonderful messages of support, for which we thank you. But now that a little time has past please indulge me as I share with you the eulogy that I found so very difficult to deliver on the day, but that I am so very proud of, because he's my Dad.

27048960 Warrant Officer Michael Powell of the Scots Guards

My father, 27048960 Warrant Officer Michael Powell of the Scots Guards, served his Queen and country for 22 years, he also served his Grandchildren for 26 years, his son's for 61 years and his devoted wife for 62 years.

His military discharge papers describe him as " A man of the highest integrity who carries out all his duties in an exemplary and conscientious manner. Hard working and adaptable he gives of his best all of the time and can be relied upon to see any task through to a successful conclusion"

Dad brought to every task an absolute belief that with hard work and commitment you could achieve anything you wanted, and he went on to prove it.


Far right above Drummer Boy Powell, 16, in Trieste and having fun with friends.

He started as a Boy Drummer at the age of 16 in 1945, and was immediately posted to Trieste with the 1st Battalion Scots Guards. He had risen up the ranks to Corporal by the time he married Mum in 1951, after meeting her at a dance in Caterham Barracks. He then served in Germany with the occupying forces, where my brother Stuart, who sadly can't be with us today due to ill health, was born. In 1956, Sergeant Powell, was seconded to the Kenya Regiment during the Mau Mau troubles, and took his young family out to live in a caravan on the edge of the bush, waiting for their married quarters to be built.

For us youngsters at the time Dad was a hero, an adventurer who was either 'up-country', on safari, or organizing great 'jamborees'' where we got to watch military displays', ride on polo ponies and fire guns.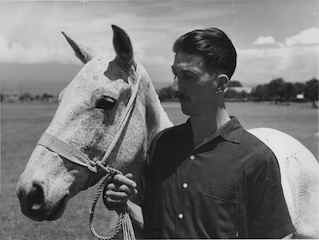 Dad (white hat) managing a stage of the East African Safari in Nakuru and with Jester, his 'colonial' polo pony.

Every now and then he'd announce that we are going to Mombasa for a holiday and we'd all pile into the family car, a tiny Fiat 600 known affectionately as the "Coco Tin". With a roof rack stacked high with supplies, we'd head off on the 500 mile journey through the bush to a borrowed beach hut, who's 'outside' facilities coursed more than a few scary moments with the local snake life.



Dad was very proud of our first car, a Fiat 600 called "the Coco Tin" and Dad leading yopung troops up the Tana River.

He would often go 'on safari' with his troopers and once led a team that canoed down the Tana River, the longest river in East Africa, in old native dug out canoes. Crocs, hippos and elephants where their constant companions. I have a wonderful image of him in massive bush hat, large flared kaki shorts, that were so heavily starched they could stand on there own in the corner. With a rifle slung over his shoulder and cheeky grin he looked very much the Indiana Jones figure.

But he wasn't the only romantic figure; my darling mother was always there at his side, making a home for him, looking after us and chasing off the occasional 4ft python with a broom.

It was this dynamic duo that inspired us boys to take on challenges' and adventures.... some how they made it seem all so normal.

After leaving the army in 1968 he joined Marks & Spencer's as a Warehouse Manager and Buyer, a task he proved eminently suited too, and he served with M&S until retiring to become a fulltime professional Grandfather, a roll he also proved well suited too.

Gramps, or Grappy he took to the role with his usual vigor, always the first to 'volunteer' to fly to Los Angeles to babysit the grandchildren
J. Mum & Dad's "once in a lifetime" trip to California to see Mike & Judy get married turned out to be an annual event, sometimes bi-annual.

But it was as a touchline supporter that I and the girls will always remember him, regardless of the weather, he would be there, shooting jacket and cap, forever the Guardsman, inspiring, leading, and cheering.

Dad was a loving husband of 62 years to his beautiful wife,

An inspirational father to his three sons,

And a doting Grandfather, to his gorgeous grandchildren.

But above all he was an adventurer who carved out a great life for his Family,

We will all miss him very much.



Mum & Dad, with Beth and little Masie, Christmas 2013.


---