Where have all the Blogs gone?

UHURU
Steve Powell
Sun 28 Feb 2010 15:14

You may well ask where have all the blogs gone. Sorry but I had a disaster with my laptop and basically lost everything. It was my own stupid fault after lecturing everybody on a regular basis about keeping a good back up all the time, I failed to do it while onboard. Bloody idiot! And as I'm sure you all know my laptop is my life! Well with a combination of being on the high seas for months on end and scrambling around trying to recover as much data as I could from out of date back ups, etc,. I am finally 'back online'.

Well a little housekeeping first. I have had to try and reconstruct the blog mailing list so.... If you know that I have missed somebody out that wants it, please let me know. If you are on the list and don't want it, please let me know. If you are now getting this and have never received it before, you lucky thing you. If you want to catch up with old blogs go to http://blog.mailasail.com/uhuru for hours of fun reading.

What I plan to do is try and bring you up to date with a few short of blogs. If you have heard it all from me before feel free to hit the delete button. At least I know my Mum will read them!!

Last time I blogged we had just arrived in Fort Lauderdale and we had two weeks off while we were waiting for Beans, Willie and the Morgies to join us for our Cuban adventure. Botti was off to visit his 'Banjo playing' mate in the Everglades and I was off to LA to ride my bike in the LA-Bartow-Vegas Dualsport event.

Well Botti survived his encounter with the 'Banjo players' and made it back with his honour intact and I survived the LA-B-V thanks to Rich and the guys constantly reminding me that I was getting old and should slow down a bit. Unfortunately brother Mike didn't, and on day one of the two day 530 mile ride he bailed smashing his wrist up pretty badly. It took us several hours to get him and his bike out of the desert and back to the nearest hospital. Later that night Mike's wife Judy, another long suffering wife, and the kids drove all the way out to Barstow to take a very pale and hurt Mike back home to see a specialist. Two operations and twelve pins later, Mike I can report is now well on his way to recovery.

The big shock of the weekend was Clubby, our near professional rider and famed editor and publisher of 'TrailZone', a highly regarded Australian off-road bike magazine, who had flown over specially for this famous event.... BAILED!!! After hitting a flying rock! Well this gave me the chance at last of nursing him after he has nursed me on a number of occasions, and of course, give him a hard time for falling off, silly bugger! After being featured in Clubby's mag a number of times under the headline, "Big Steve Crashes Again", with supporting gory pictures. I was pleased to see in the next issue of 'TrailZone' that he did publish and confess all, a great picture of him sitting all lonely in his hotel room in Vegas with an ice pack on his knee that had swollen to the size of a large melon. Meanwhile, we were all having fun in the casino.

Enough of all this, this is supposed to be about sailing. Back in Fort Lauderdale, Beans, Willie and the Morgies duly arrived and we started preparing for a month in Cuba. After doing all my research into what we would need etc,. Food was the biggy. Getting food was not going to be easy as most food, especially the basics, was rationed and issued by the State. So it took us a couple of days just stocking up and stowing all the food we would need.



The lovely Beans prepping for Cuba and Paul with that "You can not be serious" look as the food mountain climbs!!

I also spent $137 in the 'Dollar Store' for trading with the natives. But more of that in a later blog.

After leaving Ft Lauderdale we sailed down to Key West which was very 'quaint'. Oli got a bit of a shock when he went upstairs to a terrace in a bar to first see a large sign saying "NO SEX ON THE PREMISIS" only to find naked men sun bathing everywhere!. In the classic sense "He made his excuses and left". We were definitely the "Only Straights in the Village". Surprisingly we didn't hang around Key West for very long.

One of the destinations I was looking forward to was the Dry Tortugas, a collection of tiny islands and reefs about a hundred miles west of the Florida Keys. Rarely visited, because it's somewhat off the beaten track, it has a very famous old Fort on the main island, or should I say the main island is a famous old fort. Fort Jefferson was built in 1846 by the Americans to protect the main trade routes out of the Caribbean Sea to the East Coast. It is now inhabited by the National Park Services and the US Border Patrol as it's often the first landing spot for Cuban refugees who, under American Law, only have to place one foot on US soil and they gain full citizenships rights. Quite a draw for Cubans.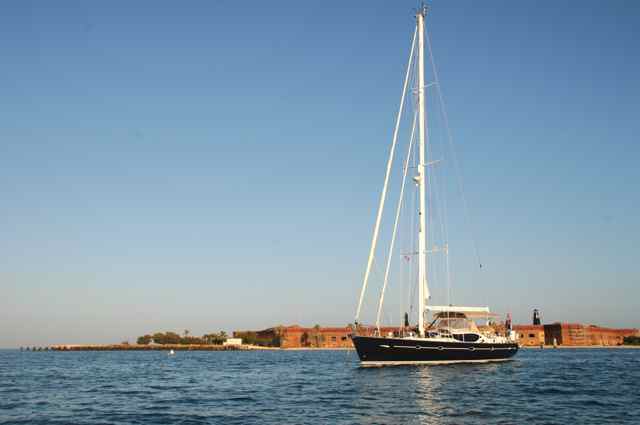 UHURU sitting at anchor off Fort Jefferson in the Dry Tortugas.

We spent a great few days diving, sunbathing and wondering around the Fort. And apart from one small tourist boat a day, it was pretty much all on our own.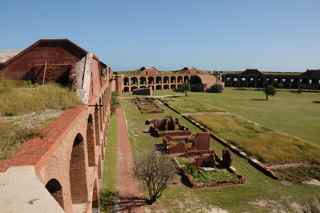 The Fort is massive. Read all about it at http://en.wikipedia.org/wiki/Dry_Tortugas_National_Park

Our next port of call was to be Marina Hemmingway, Havana, Cuba which will also be my next blog.

Well we are now sitting at anchor off Green Island, Antigua. Beans is at home enjoying the English weather and I have Al "Buzz Light Year" Keck and Oli onboard. Buzz races with me in E'Tu, my RS Elite, and this afternoon we are going to pay a visit to Harmony Hall who have just taken delivery of two brand new Elites. Hopefully we'll get a chance to have a little warm weather training session.

Luv to all

Steve

http://blog.mailasail.com/uhuru




---