The Navigator

UHURU
Steve Powell
Mon 14 Feb 2011 15:58
53:57.05S
71:36.07W

Since leaving Caleta Ferrari we have been slowly making our way up the Beagle Channel and through the channels that connect it to the Magellan Straights. We have experienced every type of weather you could imagine, all in the same day. One minute your sailing gently along in a following breeze, the next minute the wind has turned 180 degrees and is coming at you at 40kts. One minute it's bright sunshine, the next minute it's pouring with rain. Then it all starts again!! English weather has got nothing on this!

All the time we have been guided through these narrow and challenging channels by "The Navigator", our very own young Yachtmaster, Chris. While Botty, Mike and I are taking it in turns helming, out in the cold and rain, Chris has the privilege of sitting down below in the warmth shouting orders at us! And god forbid anyone who goes off route!!



Chris seen here with the 'tools of the trade', electronic charts don't really work here, too inaccurate. Botty on the bow as we navigate another narrow.

Chris has safely navigated us through many narrows and challenging tidal gates, but the toughest had to be Paso O'Ryan in the Canal Acwalisnan. It is a very tight little squeeze between rocks, and the depth drops from 100m to just 4 meters, we draw 2.7 meters. In the flood tide it can have 8kts of tide running through this very small gap. I decided that we would do it at low water slack or as close as we could get to it. That way, although we would have less water under us, I should be able to see the rocks clearly. Well that part of the plan worked, we definitely could see the rocks! Lots of them and very close. But what we hadn't expected, because the book said, the tide/current should be running N-S, against us, thus slowing us down as we went through. It wasn't! It was very decidedly running S-N, under us at 5.5kts. So we shot through Paso O'Ryan, as if we were running rapids on the Colorado River. The turbulence was quite extraordinary, twisting UHURU around as if she was just a floating cork on the water. Once we were committed all I could do was try an steer us as best I could. A one point I swear we were surfing down a face of water. Another adrenalin high on UHURU, as we all realised what we had just gone through. (Sorry no pictures we we're all kind of busy!, rock watching). Once again UHURU showed her true adventure boat pedigree and bought us through safely. 'Bloody Marvellous'.

But for all it's challenges, this region has it's charms. The scenery is spectacular, massive granite faces, huge tumbling glaciers, snow covered mountain ranges, waterfalls that cascade down huge cliffs, remote mountain lakes, bubbling streams, flora and fauna from space, seals, dolphins and a multitude of birds.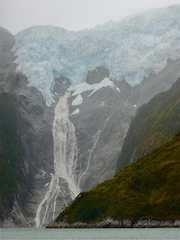 Glaciers, waterfalls and mountain ranges. This one is the Darwin Range, remember Darwin came through here on the Beagle.



Babbling brooks and flora and fauna from space!!

We left Caleta Ferrari eight days ago and since then have only managed to sail four days, covering a little over 200 miles, because of weather. Each day we try to make about 50 miles, but at about four o'clock in the afternoon we have to start thinking about finding a 'bolt hole' to get into. The process is not easy or quick, first we have to check whether we can get in, although we have an excellent book called Patagonia & Tierra Del Fuego Nautical Guide written by two Italians, which gives us lots of potential anchorages, we can't always be sure of getting in them due to ice, kelp, or just the size of UHURU. (Most boats down here tend to be a lot smaller). So on a couple of days we've spent several hours just finding a suitable anchorage. Then we have to go through the process of setting lines out to shore so we can fix our position. Very few of these anchorages are big enough to allow us to swing at anchor. Mike & Chris jump in the tender, I then try and fix and hold UHURU were I want her in the cove, then Botty lets our our special shore lines to the guys who then have to race to shore climb up the rocky shore and find suitable trees or boulders to tie off too. If their too slow UHURU gets blown off station and I get stressy, as the shore and rocks are often only meters away.



Tying off every night is an art form, performed often in contrary winds and only meters away from rocks and the shore. The boulder on the left had a convenient lip on the back side that held our strops securely.

Well we are now safely tucked away in Caleta Hidden, on the southern side of the Magellan Straights. We have 40 plus knots of wind screaming down the straights, almost impossible to make any headway into, so we wait. The next 120 miles straight up the Magellan Straights the wrong way, against the prevailing winds and current. Has the reputation of being the toughest section of water in Patagonia. So we are going to treat it with respect and do it in short hops when the weather allows. With the forecast we have over the next 5 days, it might be very short hops!

Happy Valentine's everyone.

Luv

Steve & the crew

14th February 2011






---