Bertie's Blog: It's a dogs life....

UHURU
Steve Powell
Fri 20 Sep 2013 08:55

Hi Y'all,
It's Biscay here, your favourite seafaring pouch. I thought I send you some photos of my life onboard.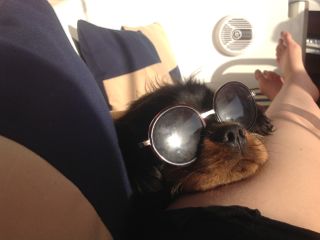 I spend a lot of my time just chilling, but I do have some important duties......



My main one is Dolphin watching.. Mummy and I spend a lot of time looking for Dolphins and I am the one that usually sees them first.



When I spot them I like to show all my friends, I also spend a lot of time on life guard duty when the kids are swimming.

Talking about friends I made a new one in Malta....


He didn't talk much but he let me swim in his pool.

It took me ages to convince these two 'friends' to give some of their ice cream, I had to pull the full on googoo eye thing, me a poor starving pouch!


They got the message in the end.....

But the main thing I like to do is walk and chase my ball... Mainly on beaches if I can.


This one is on Ponza, a little island off Italy. It's one of my favourites, Mum & Dad seemed to like as they spent a lot of time eating and drinking there with John & Kim.

But now we are in Paxos, and it has some lovely walks which Mummy and I are really enjoying.



Finally, I know I look a bit wet and bedraggled in this photo..... But look at the Skipper, that's just NOT a good look.




I hope you enjoyed my a day in my life.

Luv to you all

Biscay Bertie

20th September 2013




---