School holidays are over........

UHURU
Steve Powell
Sat 1 May 2010 15:43
12:00.50N
61:44.20W

There's a very distinct feeling of the "School holidays are over" here on UHURU. Oli and I have spent the last few days hauling her out of the water into her hurricane cradle ready to spend the summer months out of the water here in Grenada. There's been a massive amount of work getting her ready. Removing all safety kit and deck kit for stowing below. Shutting down all the multiple systems and cleaning, cleaning, cleaning.




UHURU comes out of the water at Spice Island Marine, in Grenada.

We have had a great last couple of weeks. Beans was over again..... Getting habit forming isn't Darling :-)

And Doug & Lynne Flynn flew in from Australia, forty hours travel time!! Both ways. That's commitment for you. Diane arrived without Nick "Five eggs" Harvey, unfortunately got caught up in heavy work commitments. Sorry Nick we missed you.....

It was a classic Caribbean cruising holiday visiting our favourite spots, St Lucia, Dominica, Bequia, Tobago Keys, Union Island and finishing up here in Grenada.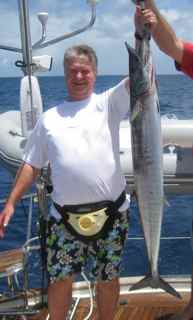 Left: UHURU at anchor off 'Happy Island', a artificial island built by a local of Union Island entirely out of Conch shells, which litter these islands. He has planted palm trees and built a bar on it. It's quite an achievement and great fun. Center: The best Rum Punches in the Caribbean on 'Happy Island'. Right: Dougie caught a massive 20lb King fish which we immediately Sashimi'd.

Well, home tomorrow. It'll feel strange, apart from a couple of very quick trips home I've been living on the boat since last September and as you all know we have had more than our fair share of fun and adventures. Looking back over the old blogs I find it difficult to believe that we have done all that in such a short time. It has been a quite extraordinary trip. One made so much better by all the friends that have joined us and helped. Thank you. And, of course, the lovely Beans, Lucie and Sophie who at times must feel abandoned as I swan around the oceans having fun, they have been fantastically supportive and despite everything, I think they still love me!!

Well the 'holidays' are truly over. I am looking forward to a great summer back home, lots of family time, and maybe a little racing in my RS Elite, E'Tu. We have the National Championships at my home club, The Royal Lymington YC this July, so that should be fun. We have offered accommodation at Ladycross to the whole of the Irish fleet. It should be a hoot!!!!!!

But mainly I will be planning and preparing for the next leg, when things get a little bit more serious. My plan is to leave Grenada at the beginning of October and start heading south. We will have the toughest section first, two thousand nautical miles upwind and against the prevailing current. As Julian Caldwell, the cruising guru, says in his guide "some people have taken that route, but I wouldn't". I must have a masochistic streak in me. From where we are it's the shortest route to Recife, Brazil, which is were the conditions start to turn in our favour. So the classic route is to head back up to Bermuda then across the Atlantic to the Azores, wait in the Azores for the summer then cross the Atlantic again down to Recife, about 7000nm. But we would miss the chance of visiting Guyana, Suriname and French Guiana, all exciting possibilities. Also we will be sailing up a couple of rain forest rivers and across the mouth of the Amazon.

True adventures.

Once we get to Recife it's all down hill to Rio, Buenos Aires, Falklands and then onto Antarctica. 'Watch this space' as they say.

+++++BREAKING NEWS+++++ BREAKING NEWS+++++ The lovely Beans has agreed to join us in Ushuaia, Tierra del Fuego, Argentina,( http://en.wikipedia.org/wiki/Ushuaia) the worlds southern most city and sail up the Chilean Archipelago. (http://en.wikipedia.org/wiki/Chiloé_Archipelago) This will consist of a thousand miles of sailing though some of the most beautiful Fjords in the world with glaciers reaching down to the sea and hundreds of small deserted anchorages. And who said she didn't enjoy sailing!

Well it's time to wind up. Have a great summer and I hope we get to a chance to meet up over the next few months.

This is the Good Ship UHURU and the "Longest Way Round" Blog signing off until we start again next October.

Luv to all

Steve

Steve Powell (Owner/Skipper)

UHURU of Lymington
Mob: +(44) 7774 423 449
email: Steve {CHANGE TO AT} uhuru {DOT} mailasail {DOT} com
Boat Sat: +(870) 7731 500353

UHURU Blog: http://blog.mailasail.com/uhuru










---