Morning Chorus

UHURU
Steve Powell
Sun 17 Oct 2010 12:04

We are anchored up the Mahoury River in French Guiana surrounded by mangrove swamps and jungle. Every morning at sunrise the jungle comes alive for about two hours with a fantastic 'morning chorus' of birds, insects, possibly even monkeys, although we haven't seen any yet. We have bright red birds, green birds with yellow legs and about 30 buzzards/hawks circling above. The bird lovers amongst you would love it, unfortunately their all feathery things to my uneducated eye.

Just a short distance up the river is the small commercial dock that serves Cayenne, with tankers coming in and out, and a cement factory that we are 'borrowing' this excellent internet connection from.

We came up the river a two days ago after spending a great few days in the Iles du Salut, a very small group of three islands off the Guianan coast that features the famous Ile du Diable, Devils Island. ( http://en.wikipedia.org/wiki/Devil's_Island).

These islands made for the most fabulous anchorage, light breezes and gentle waters, with wonderful views of the islands.




UHURU at anchor off Devils Island.

We, of course, did the full tourist thing and booked a tour of the islands, which we promptly missed because we still haven't figured out this 'time zone' thing. We are forever missing appointments by an hour either way!! You'd have thought we'd have got the hang of it by now! But we did our own tour anyway and it was fascinating. We've all read Papillion I am sure, which by the way turns out to be fiction, big disappointment. Well it turned out just as I imagined it, it must have been a brutal life.



Devils Island Tour. Left To Right, the solitary cells, general population, and Botty finds the loos!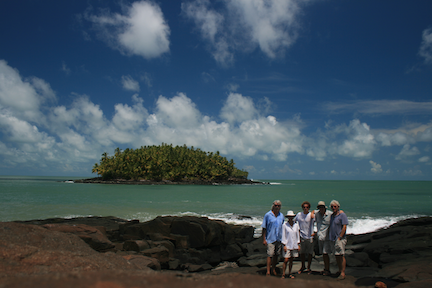 We are on Ile Royale and behind us is Devils Island, in between is the infamous shark infested waters that all the dead bodies were dumped. We didn't go for a swim.

We are now expecting Hugh Pringle to join us today and David and Tamsin will head back to the UK, to rejoin us in Buenos Aires.

But the work never stops and these change over times are important opportunities to get UHURU back into shape. Maintenance goes on a pace and all stores and fuel needs to be restocked, which in it's self is becoming more of a challenge as we go south.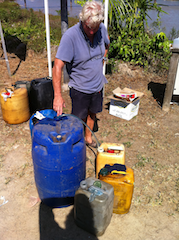 We laboriously transferred 700 litres of diesel fuel from a petrol station 4 miles away in the back of a Peugeot 107, onto the tender and out to the boat to be then pumped up into our diesel tanks. This took almost a full day in energy sapping humidity and heat. Yet the worst job of the week has to be 1st Mate Ollie's heroic efforts at fixing a seawater leak in the generator. He spent several hours jammed 'under' the sole boards (floor boards to you!) in the smallest of gaps while Botty fed him tools and the occasional life giving drink. No wonder Olly maintains his sylph like figure, he lost several pounds right there. Maybe I should try it!!

Well we are nearly ready for the next leg, it's a long one and I expect us to be at sea for about ten days. We will be standing well offshore as we head down the Brazilian coast past the mouth of the Amazon and across the Equator. We have been warned about possible pirates in this area and large quantities of debris coming out of the Amazon. So I plan to stay well offshore. Our next port of call will be Fortaleza, Brazil.

I will try and give you updates as we go, particularly on our Equator crossing celebrations.

Meanwhile Luv it you all from all on the good ship UHURU

Steve

17th October 2010





---