Anchor watch tied up in a marina?

UHURU
Steve Powell
Sat 11 Dec 2010 19:46
34:57.68S
54:57.04W

Or, boy do things change fast here!. We are now in Punta del Este, Uruguay. A beautiful resort town on the NE corner of the River Plate Estuary. We have been here for a few days for crew change over and it alternates between heaven and your worst nightmare.

Last night Cameron, Andrew & Fiona Maconie's son, arrived to join us for the next leg. Botty & PK have left to head back to the UK and David & Tamsin are due later today. So just the three of us, Chris Cameron and myself, sat down for some supper onboard. Fortunately, I had earlier decided to eat onboard. It had been a beautiful evening, slightly balmy, and I had had my ritual G & T and cigar on-deck before cooking steak, egg, chips & peas!! Life doesn't get any better!

A few minutes after finishing our meal, while debating who was going to wash up, no debate really, Chris and I both looked up at the hatch and said that doesn't sound right. Moments later we were battling to keep UHURU off the big very high concrete pontoon behind us as we were hit with 37kt winds on our STB bow in the marina! It required full engine at times just to keep us off the wall and a constant trimming and adjusting our lines. For those of you of a nautical bent we were tied stern too, with two bow lines to a mooring buoy. All three of us were kept busy for a couple of hours, just trying to find a stable position as the wind swung back and forth.

We finally managed to find the safest and most stable set up and sat down to a couple more hours of "anchor watch" in a marina! We finally went to bed about one in the morning when the winds had dropped to a more manageable 20+kts. The surprise was how quickly the weather changed, it really was a matter of minutes from a quiet evening in a marina to mayhem. A valuable lesson and one I suspect we will come to value over the coming months.

Well this morning all is back to normal, light winds blue sky and sun shine. The fishermen are selling their catch on the quay side and the sea lions are begging for scraps. Life in Punta del Este is truly idyllic, when the weathers right. It's reminiscent of the South of France and Uruguay differs in one very big way from it's neighbours to the North, Brazil, virtually NO CRIME! It's almost unheard of in South America where security is a very big issue everywhere. Not one single gate on the marina or security guard.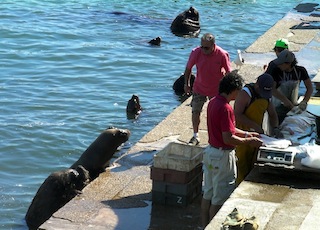 Sea Lions are a constant feature in this marina where the fishermen sell their catch right on the quay side.

We are now in full planning and preparation mode for the next leg to Port Stanley, Falklands. This is the leg that I have always identified as potentially our most challenging and all the early indicators suggest that I was right to be wary. We have a series of gales sweeping round Cape Horn and heading NE up through the Falkland Channel right across our path.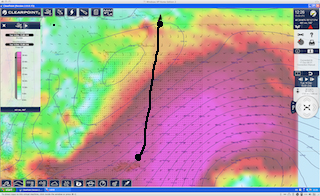 The forecast for Tuesday, the day I was planning to leave, shows a major gale right in our path. The purple on the left shows winds of 40-50kts (that will mean gusts well above that) and the red on the right shows seas of over 10 metres. And there's a series of others following right on it's tail. So the the next few days will require all my skills and judgement to find a safe gap. We have over a thousand miles to go and we will be crossing the continental shelf which has some of the roughest waters in the world. So I think caution will be my watch word. Fortunately my limited skills will be augmented by better and more experienced minds than mind. Chris Tibbs, a renowned marine meteorologist, and Richard Haworth, famed high latitudes sailor, will both be offering advise over the internet. So hopefully we will get it right, or as close too as reasonable.

It does seem odd though sitting here in sunny Punta del Este, why would anyone cast off their mooring lines and deliberately sail off into that, it's much more cosy here! To be absolutely honest, it is going to be a difficult call, whenever we leave we are going to run into severe weather, there is no such thing as a seven day weather window down here, and the poor crew have to just go along with it. Trusting souls.

On a brighter note, as I write Botty is sitting in a 'doss' house in Buenos Aires having had his passport stolen (sic), he has missed his flight home and has to wait until Monday when the British Embassy opens. Apparently, no decent hotel would take him without a passport! Personally I don't think the lack of a passport had anything to do with it! If you walked up to the reception of the Dorchester looking like this..........




..... would you expect to be turned away, of course.

Good luck Botty I hope you get home soon, Willie's missing that sexy look.

Well I'll let you know when we leave for Port Stanley.

Luv to all

Steve

Punta del Este, 11th December 2010


Steve Powell (Owner/Skipper)

UHURU of Lymington
Mob: +(44) 7774 423 449
email: Steve {CHANGE TO AT} uhuru {DOT} mailasail {DOT} com
Boat Sat: +(870) 7731 500353
Skype: stevepowell9999

UHURU Blog: http://blog.mailasail.com/uhuru







---