Bye Bye Ladycross

UHURU
Steve Powell
Sat 2 Mar 2013 12:10
50:49.20N
01:31.25W




Well it has finally happened, one month short of thirteen years we have handed the keys over and moved on. The end of an era, clichéd I know, but Ladycross was and is full of clichés. It was an extraordinary experience and a privilege to be the caretaker of this astonishing residence for nearly thirteen years, the longest I have ever lived anywhere since birth, and in the process to restore it to something approaching it's former glory as one of the most important Royal Hunting Lodges in the New Forest.

There is so much I could say about our time at Ladycross, but I won't. We all have our memories of good times at Ladycross, great parties, wonderful country weekends, and small kitchen dinners, well not so small, nothing was small at Ladycross. So I'll leave it at that, remember the good times, and good friends. For Beans and I, it had just become too large..... and a bit of a burden.

Fortunately, the good friends remain and between us I am sure we can conjure up some more good times. The Powell family, plus Bertie, are setting sail again on UHURU, this time for a "year or so........" to the Med. So watch this space as we find out just how much of a sailor Bertie is? Or isn't!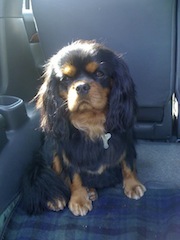 Bertie with his lifejacket. Bertie practicing his 'Beach Bum' look, and just looking plain cute.

Well the boat goes in the water on Monday, we have three weeks to get her ready as we plan to be in Guernsey for Easter. Then keep heading south until we hit warmer climes. Beans is strangely positive about the whole thing and is fully committed, as she usually is with all my 'life changing' ideas, once she gets her head around it. And not unsurprisingly the girls are "well up for it", as they plan lots of "free" holidays in exotic locations. Their first major visit is Naples and Capri, not to bad :-)

Once again we will be relying on friends to help us crew UHURU around the Med so we both hope that many of you will get the chance to join us onboard at some point. If your not the boaty type and can't join us I hope you enjoy our adventures, because adventures there will be, as we set off on our next life.

Luv to all

Steve, Beans & Bertie

1st March 2013






---