Buzios excels, but Rio disappoints.

UHURU
Steve Powell
Fri 26 Nov 2010 18:52
22:55.16S
43:10.19W

We arrived in Buzios in the afternoon of the 17th. After doing 570nm in in 3 days, the beauty of wind and current working in your favour. What a joy, not something we have seen much of on this trip. We immediately fell in love with Buzios.........



Buzios used to be a quiet and unassuming little fishing village, until Brigitte Bardot staying staying here in the sixties. This transformed it into one of the most popular holiday resorts for wealthy Brazilians on the coast. It still maintains a lot of it's fishing village charm, but also has 'shopping to die for', and great restaurants and clubs. Which, of course, kept the girls happy. Which after all is my singular goal on the trip.

On our first night we dinghy'd into town in a heavy rain storm and stumbled into the nearest restaurant. Which turned out to be very entertaining.....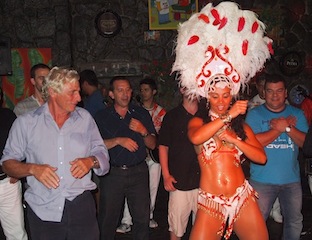 Botty seemed to enjoy it a lot..... In fact probably a little too much! :-) Sorry Willie, but despite what it looks like he behaved impeccably.

Well we made the most of Buzios and managed to spend 3 days here.


Botty met Brigitte Bardot, Lucie posed a lot, trying to surf and the boys looked good strolling up and down the beach. Tough duty.

Will, AKA the 'Ships Bitch', also managed to get arty with his camera and proudly submitted two excellent contributions to the NABS collection......



Well done Will, it's about time we returned to the NABS Collection.

And on to Rio, my plan was to come sailing into Rio just as the sun rose in the east gently painting the 'Christ Redeemer' statue with early morning light and showing us this fabulous city in all it's glory.

Unfortunately, not all my plans work.

As we sailed in at dawn, it was wet, overcast and miserable.



This is the closest we got to The Christ Redeemer being bathed in early morning light, ALL WEEK!

We did the usual, famous beaches, tourist visits, etc, etc,. But to be very honest, in my very humble opinion, which you all know is ever so humble, the beaches were litter strewn, crowded and inhabited by rather large tourists, with the occasional Brazilian beauty. And the city itself was a dirty, graffiti covered car park.

In fairness we did have a couple of nice meals and we travelled on the famous trams in St Theresa, but all in all Rio was a big disappointment.



Lucie & Will on top of the 'Christ Redeemer' mountain with the famous views of Rio behind!

Well Beans, Lucie & Will have flown home now, and I preparing for the next leg down to Mar del Plata, Argentina.

I am very sad to report that Olly has decided that he wants to get his YachtMasters ticket and a bit more experience before heading down to the Southern Oceans. We talked about it at length and I agree with him. Fortunately, he gave me enough notice to be able to replace him and I will be joined in a couple of days by a new crew member.

Olly has been on UHURU for over a year now and has shared many adventures with us. Many of you have met him, and know him as a cheerful, willing guy who always wants to help, well he is and we will all miss him. Please join me in wishing him the very best of luck in his career.



Thanks Olly, and 'stay frosty!'

Luv to all

Steve

26th November 2010












---