The big catch up!! Cuba to Jamaica to Bonaire to the Eastern Caribbean.

UHURU
Steve Powell
Wed 24 Mar 2010 19:38

I love doing 'live' blogs as there is a sense of immediacy and involvement with you, the loyal readership. As many of you have said, knowing that it is happening out there 'live', adds an exciting dimension to the blogs.

But.... And it's a big but, doing catch up blogs is not so easy as it's all happened some time ago and takes on the tone of " who would like to spend a couple of hours looking at my holiday photos?". So at the risk of boring you with my holiday photos I am going to do a photo essay of our adventures from Cuba down to Bonaire and back up to the Eastern Caribbean. So this is a combination of holiday photos, family catch up and a 'for the record' briefing to keep the story going.

January 2010. Cienfuegos, Cuba to Port Antonio, Jamaica
David Botterill, AKA Bottie and Peter Kinnaird, AKA PK, were supposed to join Oli and I in Cuba but due to the dire weather the UK was having in January their flight was cancelled and the only flight they could get was to Jamaica a few days later. So all change to our plans again as Oli and I set off to do the 500nm or so, across to Port Antonio, Jamaica, double handed. That's the beauty of sailing we were planning on going down to the Cayman Islands, but what the hell, we'll go to Jamaica instead!!

The main highlight of this trip, other than to rather tiring 4 hours on 4 hours off, watch pattern that went on for nearly 3 days (and nights), was that we actually broke UHURU's 24 hour run record. With vigorous winds and favourable currents we posted 230nm in the first 24 hours. Winds let us down a bit after that but it was still impressive especially with just the two of us.

I had not planned to go to Jamaica as it's doesn't have the greatest reputation for safety, etc,. But Port Antonio turned out to be a very pleasant surprise, as it exceeded all my expectations. Apparently this was Errol Flynn's favourite spot, something they are very proud of. I believe his family still own a small island here.




L-R. We depart Cuba for a double handed 500nm leg. A new record, 230nm in 24hrs. Port Antonio, a jewel in Jamaica's crown.

Port Antonio to Bonaire, ABC Islands.
Bottie and PK joined us in Port Antonio after a harrowing five hour late night taxi ride across Jamaica, at one point Bottie apparently grabbed the steering wheel to avoid a major collision as the driver fell asleep. When the driver offered to take the cab fare in Viagra pills rather than cash to help him with his four wives and numerous kids, it all became clear.

Our next leg was to be tough and against all cruising rules. We wanted to get eventually to Antigua to have lunch at Catherine's Restaurant, famed of earlier blogs, and my favourite restaurant in the Caribbean. To sail directly there from Jamaica involves sailing about 850nm 'directly upwind' and against the prevailing sea current. Uncomfortable and slow. I had determined that we would take a longer route that would offer us a slightly better angle of sail, but would mean travelling over a 1000nm to do it. Starting in Jamaica we would head east as long as we could while the NE winds remained and as the wind went East, the normal winds this time of year in the Caribbean Sea, we would follow them around sailing as close to SE as we could, with a view to making landfall in Bonaire, just off the Venezuelan Mainland. Then we would do the opposite and wait for South Easterly's and and sail NE back up to Antigua or wherever we could in the Eastern Caribbean. As it happens we ended up sailing nearly 1500nm 'upwind', but most of the time we were making progress on our course.

While waiting in Port Antonio our plans were greeted with mutterings about "Gentlemen only sail downwind" from assorted bearded sandals waiting to set off to Panama, downwind, to head on through the Panama Canal. My stock, smug, answer became "Ah, but proper sailors go anywhere they want." There were moments in the coming days that I thought hard about buying a pair of sandals and growing a beard, 'downwind' sailing is so much more comfortable.

We left Port Antonio early on the 10th Jan and within a couple hours were faced with a new phenomenon that I had no idea what we should do to avoid. Five twisters, yes FIVE, were right across our route and try as we may we couldn't seem to avoid them as they chased us around the Caribbean Sea. So when my loyal and faithful crew looked to their skipper for guidance, I just shrugged and said get the life jackets on and sails down as I have no idea what's going to happen if one or all of these hit us!!




From blue skies to dark and ominous squalls and twisters in minutes. We had no less than five of these heading our way at one point.

We survived, and I still don't know what happens if one hits you as we managed to avoid them all. Poor old PK, he'd only been at sea for a couple of hours when he's suddenly faced with this. I guess he thought it was all 'normal'.

For the first 36hrs we had great NE winds and made good headway east to the south coast of Haiti, then as the wind veered East we followed and started our SSE course for Bonaire. A few hours later we got a frantic satellite phone call from home. "God have you survived the Tsunami?". What Tsunami? What's going on? Then we learned about the Haiti Earthquake that had just happened about a 100nm north of us. There was an official Tsunami warning apparently but we noticed nothing onboard, and carried on blissfully unaware of the scale of the disaster that was unfolding in Haiti.

So apart from Twisters, Earthquakes and a threatened Tsunami it was pretty uneventful sail down to Bonaire. We did have a Dutch Air Sea Rescue plane circle us just to check us out. We had a chat on the radio and assured them all was well. I guess they don't see many yachts sailing this way across the Caribbean Sea.

The real star of the trip was PK, a self confessed non-sailor who had volunteered for this leg without really realising what 1500nm upwind really meant. He found his niche in the galley and kept us fed with lots of great dishes regardless of sea conditions and got very much into the spirit of the whole thing. Well done PK, and thanks.



PK, the 'Born again sailor', when we finally got him to dress like a sailor, not a northern git on his Blackpool hols, he behaved like a sailor.

Bonaire

We thoroughly enjoyed Bonaire, spending a week there. Touring the island, checking out the beaches and diving. Bonaire is a divers paradise.



The 'pink' salt flats in Bonaire




Bottie spent a lot of time paddling, and PK spent a lot of time 'sucking it in' trying to look good. While Oli & I went diving.

Bonaire to Bequia, St Vincent and the Grenadines.

Our next leg was to be 400nm directly East to the Windward Islands. We didn't mind which island really, we would just follow the wind and see where it took us. My eventual goal was to meet the wives in St Lucia, but landfall on any one of the Windward Isles would be more than good. So we headed off and spent the first two days not getting very far at all, with the winds directly on our nose we had to 'beat' upwind all the time. A long and exhausting process that really dosen't reward you with very very much 'distanced travelled to destination'. In fact after over two days of bashing into the wind and seas we took refruge behind a little Venusuelan island called La Blanquilla. We'd travelled over 400nm to actually only make a little over 200nm towards our destination.

So we rested up for 24 hours and set off again the following evening. This time the winds were kinder to us, slowly veering from East to SSE, this allowed us on a single tack to cruise directly into Bequia, just South of St Vincent, and a very short hop to Mustique where we had been invited to have dinner with friends of Bottie's who had just finished building a house there.



Bequia is a very pretty Island that we have visited many times but after over 1500nm upwind sailing since we had left Cuba, it was truly a sight for sore eye's.




Oli promising that he was going to own a car.... One day! A lot of Beer in Bequia and PK showing off his biking skills on a bright yellow scooter. In search of some surf, I understand Oli & PK had several near death experiences. Me! You wouldn't find me dead on one of those things...... There dangerous!!!

The Boys trip was coming to an end, we had to meet 'The Wives' in St Lucia, so we dutifully made our way up there, for a wonderful re-union after nearly a month onboard together.

February 2010: St Lucia to Antigua.

On the 1st of Feb, Beans, Willie and Jude Kinnaird joined us in St Lucia and life became a lot more civilised, pre-dinner canapés again! We then spent a leisurely week sailing up to Antigua taking in our favourite Caribbean island, Dominica.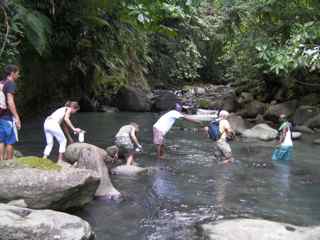 Hiking up river in Dominica, to have a swim under Victoria Falls.



Pancho, our Ganja smoking guide, introduces us to Moses' 'Calabash' soup. Lunch in the rain forest with Moses and son.




Enjoying the delights of Dominica's volcanic hot springs surrounded by rainforest. Yes that is Beans and Oli in classic old bath tubs.

Until finally we came full circle and arrived back in Nelsons Dockyard, English Harbour, Antigua and lunch at Catherine's. Claudine and Guillaume were there to welcome us as we sailed in, and we had the now traditional very long and very drunken lunch before everyone flew home to the wonders of the English weather.

We had left Catherine's in Antigua, just under a year ago and sailed through many adventures to get back there for lunch. When you get to this point in a blog, or in your life for that matter, the temptation is to become a little philosophical and wax on about, life the universe and everything. Well, why not!!!!!!!

We are now near the end of our second year of this adventure to sail around the world, "The Longest Way". We have sailed just under 18,000 nm and are about a third of the way through our journey.

With all the fun and adventures we've had so far, I can't wait to see what the rest will bring. If our friends and our luck holds out, we should have one hell of a story.

I leave you with these images to ponder......



NABF.... Not Another Bloody Fish. (yellow fin Tuna, actually)



NABSD... Not Another Bloody Sushi Dinner

And, of course, the old favourite..

NABS........





Luv to all

Steve


Steve Powell (Owner/Skipper)

UHURU of Lymington
Mob: +(44) 7774 423 449
email: Steve {CHANGE TO AT} uhuru {DOT} mailasail {DOT} com
Boat Sat: +(870) 7731 500353

UHURU Blog: http://blog.mailasail.com/uhuru


















---