A Summer revisited and a Winter anticipated!

UHURU
Steve Powell
Fri 17 Sep 2010 12:56
Well with only a couple of days to go now before I head off back to UHURU and start again on our epic journey to sail around the world, not only the "Longest Way Round" but also the "Wrong Way Round", I thought I'd take the chance to 'take stock'.

Namely, brag about about what a truly great summer it has been, and bring you all up to speed on my plans for UHURU this winter.

This summer has been a whirlwind of events and hard work. The planning for the next leg started the day after I got back from Grenada at the beginning of May. Since then my study has taken on the roll of expedition headquarters, with charts, equipment, spares, and shipping boxes cluttering up every spare piece of floor space. And at the same time I had to get up to speed with events at Ladycross, at lot had happened in my seven months absence, also a full social and racing schedule beckoned.

Remarkably, Ladycross was in fine fettle when I got back, proving once again that the team don't really need me and probably get on a lot better without me. Headed by Beans in her new role as "Director of Operations", a role she seems to have taken to with gusto, and featuring Nathan, Alysia, Julie and David, life at Ladycross was ticking along in it's usual efficient and relaxed manner. A joy to come home too, and making it much harder to leave. A full social schedule swung into action, meeting and entertaining lots of old friends and catching up with all the news.

An early highlight of the summer was Lucie's success at Cardiff University, graduating with a First Class Honours Degree in Economic and Social Studies. (Yes there is a lot of bragging going on here, but she deserves it).



Lucie and Beans, after the graduation ceremony, and a bevy of beautiful graduates from Lucie's year. Apart from Lucie there are two First Class Honours Degrees in Maths in that group!! Brains and beauty. Well done girls, we're all very proud of you.



We then attended Sophie's exhibition at the London School of Art, where she graduated with an impressive portfolio of 'risqué images' and successfully got a place at Middlesex University to study fashion photography and styling for the next three years.

Good friends John Burnie and Ann Louise, successfully sailed back from the Caribbean in their beautiful boat, Indaba, having spent seven years cruising around the Caribbean and South America. John is a hero of previous blogs, in particular, arguably the longest lunch in Antiguan history, eleven and a half hours at Catherine's in English Harbour.




Hugh on Rum Jungle and I gave Indaba an honour guard into Lymington after their epic sail back. With, of course, the obligatory champagne and Cuban Cigars.

Interlaced throughout the summer was a busy racing schedule in E'Tu. With Buzz and my new foredeck man, Botty, Charlie retired last year to go off sailing solo. Our first event was the ever popular Irish National Championships where much to our surprise we were leading the fleet at the end of the first days racing.



E'Tu leads the fleet in Belfast Lough and Botty celebrates our second win of the day.

Well that night 'The Irish' do what 'The Irish' do well and managed to get get us completely legless! Prompting a great line in one of the online sailing sites. " The good news was E'Tu was leading overnight, the bad news is they started celebrating!". Which unfortunately we did, a little early, and ended up slipping back to third place overall on the Sunday. That'll teach us!

We did, however, manage to repay their hospitality by hosting the whole of the Irish fleet at Ladycross during The UK National Championships at my home club, the Royal Lymington Yacht Club. Last year after having enthusiastically proposed that we host the nationals at the RLymYC, I promptly made my excuses and said good-bye, leaving the rest of the Lymington Elite Fleet to get on with the hard work of organising it. So when I got back in May, the guilt kicked it. The work load was massive as it became apparent that this was going to be the largest fleet we have ever had at a Nationals, or any Elite Regatta for that matter. Happily, they all managed to find me a little work to do, and we set about trying to make it a great event.



Eighteen Irish sailors stayed at Ladycross for nearly a week. Beans and Lish handled it all with their usual aplomb.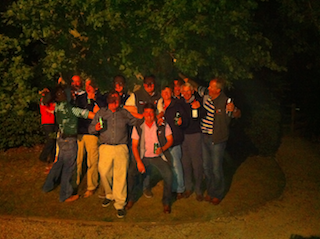 With thirty three Elites on the start line it was always going to be a tough regatta. Our goal was to finish in the top ten, unfortunately we didn't quite make it finishing eleventh overall after ten really tough races over four days. But it was a spectacular success as an event with local sailor Crauford in Kandoo 3 becoming the new National Champion and a very full social calendar that involved vast quantities of the amber nectar with our Irish friends seen above giving us a little 'tree hugging' demonstration with one of the Ladycross Oaks after another great night out.

We did manage to redeem ourselves when once again we went to the Isle of Wight for 'Cowes Week' the largest sailing regatta in the world. After six days racing and what Cowes Radio described as some of the most competitive racing they'd seen at the regatta, and with just two points separating the top five boats, we sneaked a win on count back!



A fitting end to our racing season, First Overall at Cowes. Botty was rumoured to have been seen showering with his medal still on.

One of the unexpected highlights of my summer was an invite to John Gichigi's retirement party. John used to work for me 'back in the day'. He started with Allsport as a darkroom boy and went on to become one of the most respected boxing photographers in the world. John has always been popular but his retirement party in our old hang out, the Dog & Fox Wimbledon, proved just how popular when it turned into an impromptu Allsport re-union.



I am not going to try and do a 'left to right', I am not sure I could. But suffice to say ten years on, we are all looking a little older. :-)

Well, come Tuesday morning I am off. This next leg will be for nine months with no opportunity to get off the boat and come home for a break. Oli has already gone over and started the preparations. Botty will join me next week and David and Tamsin Kidwell, of "Things go bump in the night" fame, when I lifted their anchor in the wee small hours, are also onboard for the first couple of weeks. They will also join me later for the Falkland Islands and Antarctica sections.

I guess it can truly be said that the next leg is why UHURU was built. I remember walking into Oyster in Ipswich for the first meeting with the guy that was going to build my boat, Mike Taylor, back in the summer of 2006. I very grandly handed him one sheet of paper with the following words on:
Name: " UHURU" (Swahili for Freedom)

1. She must be capable of surviving in both equatorial and Antarctic (summer) conditions.
2. She must be able to be sailed very short-handed, possibly solo in friendly waters.
3. We will need maximum fuel and water capacity, for extended passages.
4. Quality engineering, reliability, redundancy and safety are my priorities.

He looked at it and gave me a sideways look saying "It's unusual for new owners to know the name of their boat this early" and then promptly stuck it in a draw as if to say, "As for the rest, all our boats can do that". Well we are about to find out whether that's true, aren't we Mike :-).

My plan is to depart Grenada about the 1st October and start heading south down the East Coast of South America. We will visit Guyana, Suriname, Devils Island, French Guiana, Brazil, and Argentina before heading down to the Falkland Islands for Christmas.

After Christmas I will be joined by brother Mike and Richard Haworth, the Ice Guide, from High Latitudes who has also been involved with the build of UHURU from the outset. We then set off for a months cruising down the Antarctic Peninsula, starting at Elephant Island of Shackleton fame. While we're down there we plan to do a little diving, a little skiing and a little climbing. We will also visit one of the Ice Stations. We then head back across Drakes Passage and around the Horn. We might end up going around the Horn twice as we then need to get back up to Ushuaia, to pick up new crew, before going through the Beagle Channel and up the Chilean Archipelago. From there we head up to Robinson Crusoe Island, Peru, the Galapagos islands, across to Mexico arriving in Los Angeles some time early July.

Assisting me in this 16,000 nautical mile voyage in some of the most challenging waters in the world will be a host of family and friends all of whom you and I will get to know very well in the coming months.

It all sounds so easy in a email...... then we go here, then we go there, etc, etc,. But I'd be naive if I thought that we won't be challenged in some way, many many things can go wrong, and I hope I've planned for every eventuality. But the truth is you can't. The real challenge will be how we deal with the set backs and until we face them we'll never know.

Nervous me! A little, but excited above all else.

Looking forward to seeing you all at the other end.

Luv

Steve

17th September 2010

Steve Powell (Owner/Skipper)

UHURU of Lymington
Mob: +(44) 7774 423 449
email: Steve {CHANGE TO AT} uhuru {DOT} mailasail {DOT} com
Boat Sat: +(870) 7731 500353
Skype: stevepowell9999

UHURU Blog: http://blog.mailasail.com/uhuru















---