The Chief Engineer

UHURU
Steve Powell
Wed 6 Oct 2010 11:29
06:50.00N
58:27.70W

Well our trip down from Grenada has been a little more exciting than we had hoped. The winds have been very unkind. Constantly from the south east, with a little SSE at times. Always directly on the nose. So instead of a 400nm trip we ended up doing over 700nm, tacking up and down trying to make some head way. Fortunately the sea conditions were kind and we didn't hit any significant storms, or squalls.

We had one piece of really good luck when on realising on the fourth day day we wouldn't make the right tide at the mouth of the Essequibo River, we headed back out to sea to wait for the following days high water. Our engine then came to a shuddering halt. We were motor sailing at the time as it helps us point about ten degrees higher against the wind and tide.

Instantly our crack team of 'The Chief Engineer', Botty and his able sidekick, Olly, set to work finding out the problem, while I contemplated what would have happened had we made the tide and been navigating through the maze of sand bars that is the estuary of the Essequibo River.

Like many problems on boats the causes are simple, but the consequences can be disastrous. What appears to have happened is that during a recent service, while out of the water, the raw water inlet stop cocks were greased, as is normal. Unfortunately one of then was a little over greased and the excess grease clogged up the filter starving the engine of cooling water and drying the impellor out and ripping it to shreds. Well we got away with it this time and our crack team sweated and heaved down in the engine room for several hours replacing the impellor and checking all the filters before firing up the engine again. She sounded sweet.



Chief Engineer Botty saves the day.

After successfully crossing the Bar at High water we motored down the River to our first over night stop. Roeden Rust. A small sleepy boatyard on the edge of the river, for our first pre- arranged refuelling stop. We are not going to be able to refuel at nice marina facilities very much if at all over the next few months so it was important that this worked well and our home made pumping system worked. It did a treat and we also got to meet Captain De Silva and his family, who owns and runs this boatyard, 'wanna be' Marina. He talked us through the task ahead, where the problems were going to be and casually mentioned that we were the biggest yacht he'd ever seen come up the river so we should go slow and take it very carefully. The problem was that with a three knots tide running under us, going slow wasn't always an easy option.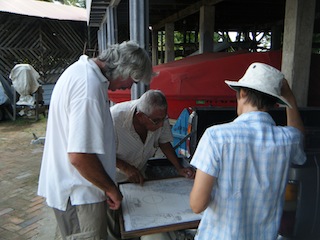 Refuelling from old diesel drums, a very happy bunch joked and took the mickey out of each other for an couple of hours while we refuelled. And Captain De Silva explains some of the problems facing us going up river.

All is well, next stop Bartica, or a sand bank somewhere 'up river'.

Happy times

Steve

Steve Powell (Owner/Skipper)

UHURU of Lymington
Mob: +(44) 7774 423 449
email: Steve {CHANGE TO AT} uhuru {DOT} mailasail {DOT} com
Boat Sat: +(870) 7731 500353
Skype: stevepowell9999

UHURU Blog: http://blog.mailasail.com/uhuru





---