Hurricane Ida keeps Savannah Bars busy.

UHURU
Steve Powell
Wed 11 Nov 2009 17:04

We last left you in Charleston, South Carolina, which turned out to be mainly touristy stuff. It was not too bad but everywhere you went was full of cruise ship tourists, and T shirt shops. We did find a great off the beaten track place for lunch called 'Café Cru', not only did we try our first 'Fried Green Tomatoes' and 'Grits', both of which were great, they also let us smoke our cigars on the the porch. Very Southern.



L-R: Tony, Fluffy Kipper & Bottie

Tony and Bottie did spend an enjoyable day fighting old wars on the USS Yorktown aircraft carrier.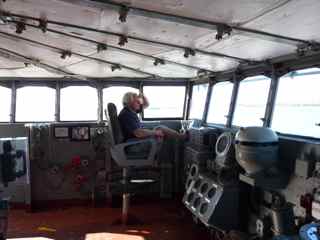 L-R: USS Yorktown, Tony shows off his 'big gun' and Bottie takes charge.

However, the highlight of Charleston has to be Oli's comical attempts to hand feed the Dolphins that were circling our pontoon the whole time we were in Charleston. The other funny thing was hundred yards away a local tourist boat was charging tourist $35 to go out into the bay to (maybe) see Dolphin. All they had to do, day or night, was wonder down to the end of our pontoon.



Despite Oli offering our finest fresh caught 'Tunny' he was ignored.

Well, after leaving Charleston, South Carolina, we headed down to Savannah, Georgia. It was an uneventful overnight sail. We then sailed up the Savannah River for 15 miles to end up right in the middle of town, right next door to the Hyatt Regency. We arrived in the middle of a "Geekend", which roughly translates as hundreds of young American Computer Geeks gathering together to talk 'Apps"! Needless to say this gave us a massive opportunity for trouble making, and a lot of laughs. Naturally Oli faired much better than us three old men.

We had planned to only stay here a couple of nights, but the combination of Hurricane Ida, that blew up in the Gulf of Mexico and then headed straight towards us, and the great bars in Savannah, we are still here 5 days later.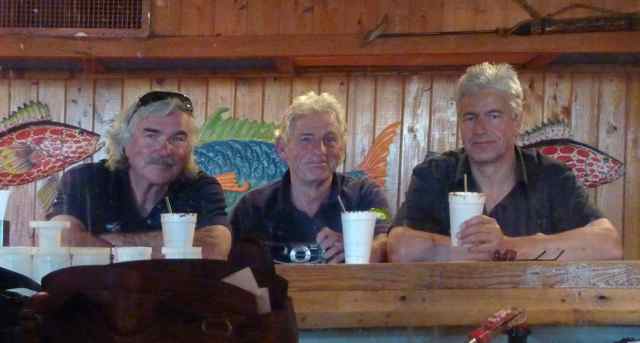 A very clever self portrait in the bar mirror of three drunks hiding from Hurricane Ida. We are drinking the strongest and most illegal (it's illegal to sell alcohol before 12:30 on Sunday in Georgia) Bloody Mary's I've ever had. We were decidedly drunk well before 12:30.

Well we're off on a pub crawl tonight to say goodbye to everyone. Note for the 'Lonely Boat Guide to the World', best bar in town, 'JJ Boners' best looking waitresses and free salted peanuts in there shells.

Thanks for keeping us entertained Savannah, never a dull moment. We are leaving for Cape Canaveral at 6am tomorrow and Scrotum (AKA Tony) leaves us to fly home. He's found a job!!! So we'd better give him a good send off.

We have tickets for the Shuttle launch out of Canaveral on Monday. Just one long cultural experience this trip. Should be fun.

Luv to all

Steve & Das Boys



Steve Powell (Owner/Skipper)
UHURU of Lymington
steve {CHANGE TO AT} uhuru {DOT} mailasail {DOT} com
Mob: +44 7774 423 449
Boat Sat Phone: +870773150353

UHURU Blog Site go to:

http://blog.mailasail.com/uhuru


---